Side hustle ideas are easy to find. If you need extra cash to get out of debt, save for a vacation, or fund a passion project, there are plenty of lists out there.
I'm not going to write another one. Here's why.
Most of the lists are simply part-time jobs that don't require much education, skill, or commitment. I agree that dog walking and driving for Uber are good side jobs that can enable you to squeeze a few more paid working hours into your day.
But do you really want a second job?
Hustle all you want, but you can't make more hours in a day. Your earning potential is capped when you're trading time for money.
Yes, side hustle jobs can help you make some quick cash, but eventually, you will burn out.
The best way to increase your income is to free yourself from the mindset of being an employee. That means creating a business.
In 2018, it's easier than ever to do this, even if you already work full time. With a computer and an internet connection, you can work from home, using skills and resources you already have, to create a second stream of income.
Over time, a side business you build in your spare time can grow profitable enough to become your main gig.
This guide (with plenty of real-life examples) will show you how to start seven different side business ideas with proven potential.
Starting a business is not easy, but it's worth it. If you're going to give up sleep, your social life, and time with your family, make it count. Stop wasting your time on side job ideas — choose a side hustle you can scale.
1. Easy side hustles you can start right now: eBay & reselling
If you look around your house, you probably have some items you don't use anymore. It could be clothing, electronics, furniture, or anything in between. Of all the easy side hustles, selling used items on eBay is a great one to start.
Not only will you get rid of your clutter, but you'll learn some basics about selling and marketing. You'll find out what type of things sell, experiment with pricing, and try different ad copy to see what works.
With 170 million active users on eBay, you're bound to get customers. Just look at this graph from Statista to see how eBay is continuing to grow and will remain a great marketplace to power your side hustle.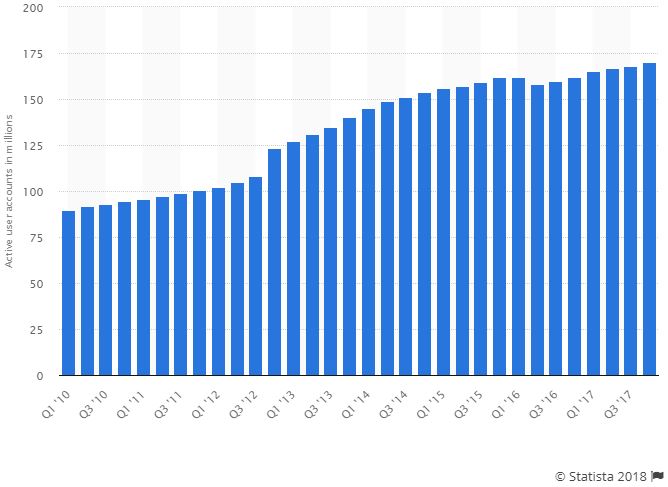 Setting up an account is easy and it's free to begin selling. Start by signing up for an account here.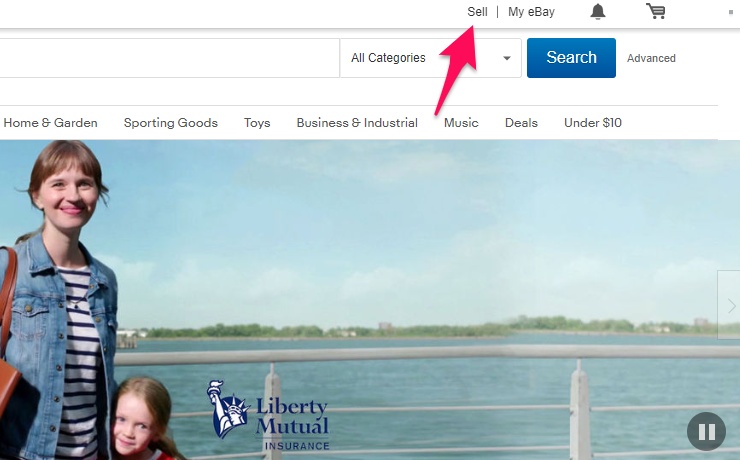 Next, you'll need to list the items you want to get off your hands. Click the "Sell" button in the top right of the eBay homepage.
You'll be prompted on the next page to enter a description of what you're selling.
Be descriptive. This helps eBay find the best category so more users can discover your listing.
Use the 80 character title to accurately describe the item. Use detail and pinpoint the best features. For example, instead of "Men's dress shoes", you could enter "Stylish and comfortable tan men's dress shoes."
High-quality photos can make all the difference in e-commerce. When listing an item on eBay, take photos with good quality, from various angles, and edit them with a free tool like Gimp if you have to.
After you've filled out the rest of the listing information, hit the "List item" button to make it live. You can also preview it before you publish it to ensure it's up to your standards.

This guide is about taking action on side hustle ideas that can grow into a business. As great as it would be to keep selling things from your basement, you'll run out eventually. Once you've had successes with your own used items, you are ready to start sourcing goods to buy locally and resell at a profit.
Consider visiting local thrift stores, where you can find clothing and other items for very low prices. These can be resold on eBay for double or more of the price you bought it for.
With thrift stores constantly receiving new products, you'll never run out of potential items to sell.
Narrow down a few and visit them on a regular basis if you'd like to improve your chances of finding good deals. A quick search on Google of your city followed by "thrift stores" can yield many results.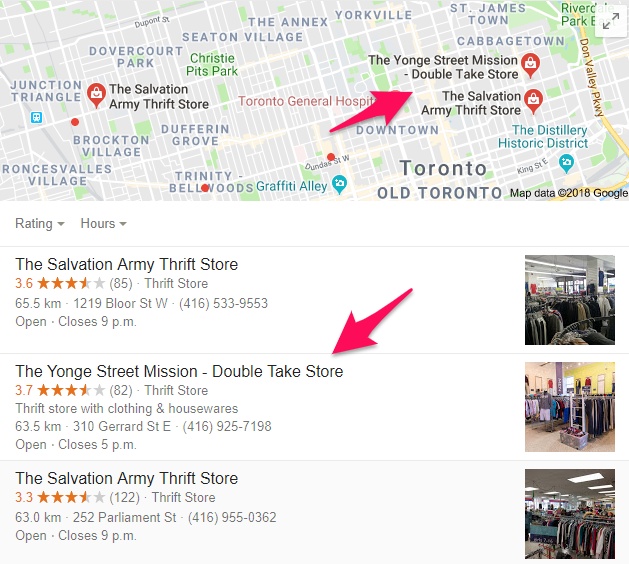 Similarly, you can check out liquidation centers, local store liquidation sales, or take advantage of local garage sales. Gary Vaynerchuk is even an advocate of doing this and started the #2017FlipChallenge because of it.
Who loves Yard sales? / garage sales ?

Best find ever?

Best flip and profit on eBay?

— Gary Vaynerchuk (@garyvee) June 24, 2014
The premise is the exact same. Look for products that you believe would resell for more than what you buy them for. Give them a quick search on eBay to get an idea of how much profit you could make beforehand.
2. Side business ideas for writers: self-publishing
Are you passionate about a specific genre? Are you an expert in a particular field? Imagine being able to turn that passion and expertise into a passive income stream. 
This is not an easy side hustle — it takes a serious effort to write books that people want to read. However, it is 100% possible to start writing and publishing your work on the side, and build it into a full-time business. But don't take my word for it. Check out these interviews with successful author-entrepreneurs who did exactly that:
Self-publishing is more accessible than ever with Amazon's KDP program. The amount of e-book readers globally is growing at a consistent pace, which means that you'll have more and more customers to sell to.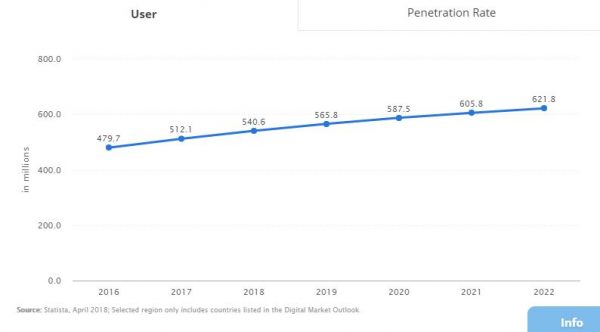 Kindle Publishing will enable you to write books about what you love and self-publish them on Amazon's website. The best part? It's totally free.
They take a percentage from every sale, but that only makes sense since you gain access to the biggest e-commerce website's customer base.
To begin, sign up for an Amazon account if you don't already have one. You can then log into Amazon's KDP portal.
When you first sign in, you'll get a notification that your account needs to be updated.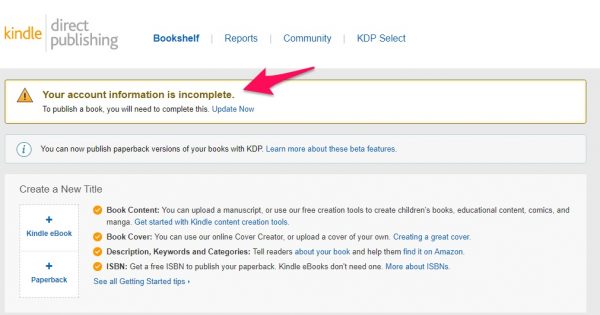 Click the "Update Now" button to fill out your account, payment, and tax information. Once that's completed, it's time to get writing!
Tools like Google Drive or Microsoft Word are ideal for putting your book together. Use Amazon's publishing guides to properly format it, this will ensure it offers the best reading experience for your customers.
If you don't know what to write about, try starting with topics that you're interested in. This will make the writing experience much more enjoyable.
Some of the best selling Kindle books are only 20-30 pages, so don't think that you have to write a long novel to make this into a successful side hustle.
Write as much as you find necessary to get your point across or to complete a great story. Once it's finished, you can either create your own cover or use Amazon's free tool to generate one.
When you're ready to publish, visit your Kindle dashboard and select "Kindle ebook" under the "Create a New Title" section.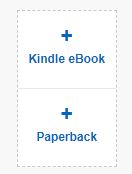 Your title should include keywords that you believe readers would search when looking for your book. This and the subtitle should entice users as much as possible to get them interested.
The rest of the book details you need to fill out are straightforward. In the keywords section, you can enter seven phrases that will help people discover your book in Amazon's search engine.
On the next page, you can upload your manuscript in one of the accepted formats.

Use the cover creator if needed and move onto the pricing. Amazon offers either 35 or 70 percent royalties, depending on how you price your book.
Once you're satisfied with your book's information and pricing, hit the publish button.

They will review your book to ensure it meets their guidelines before it's live. Once it is, say hello to passive income!
If you want to grow your sales and fan base further, you need to treat your writing as a business. You'll have a much greater chance of long-term success if you create a brand around yourself as an author.
Begin by creating social media accounts if you don't already have some. Facebook, Twitter, and Pinterest are great platforms to use.
Include a professional photo, descriptive biography, and of course, a link to your book. Better yet, I'd recommend creating an author page through Amazon Author Central.

This showcases all of your books and includes more information on as you an author. Link to this page on your social media accounts.
Follow other authors, your fans, and use these platforms to promote your book. You can also gain feedback to inspire your future work.
If writing is a side hustle that you want to build into a business, you need to give your writing a home of its own on the internet. Create your own website, instead of relying solely on Amazon to find customers. No matter which of these side hustle ideas you choose, having your own platform gives you more opportunities to attract and grow your audience.
Keep your site updated with regular content. Offering fresh content is a ranking factor that Google uses when indexing your website. This means that you'll appear higher in the search engines and get more traffic.
Don't know how to create awesome blog posts?
I'll be teaching you in the last side hustle idea, so keep reading.
3. Side businesses in e-commerce: dropshipping
When deciding what business to start, one of the best ways to break into business is dropshipping. It will teach you valuable entrepreneurial skills while helping you earn side income.
Traditionally, a retail business will order a large amount of inventory to hold at a discounted price. This is what we call wholesale.
Dropshipping completely breaks this model by cutting out the middleman and need to hold product. Look at this infographic from Hublogix, it perfectly depicts how a dropship business operates.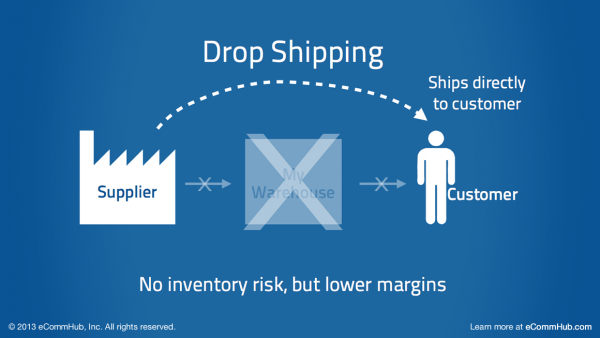 You're probably thinking, "How do I start an online store?" since that's the first step. Luckily, there's never been an easier time to do so.
Platforms like Shopify, Bigcommerce, and Volusion will give you an online storefront in a matter of minutes. All you have to do is sign up, pay a small subscription fee, and you're ready to start earning.
No coding or technical sophistication required.
Now, let's say that you want to start selling men's clothing. You can search Google for terms such as "Men's clothing wholesaler" or "Men's fashion dropshipper."
You can contact these companies, pitch that you're starting a business, and eventually begin working with them. This can be a bit time consuming, though.
That's why you should consider Aliexpress. It's a business to consumer marketplace and it will save you a lot of time.
You can order products from this website and have them shipped to any address in the world. See where I'm going with this?
If we navigate to the men's clothing section of Aliexpress, there's practically an endless supply of items.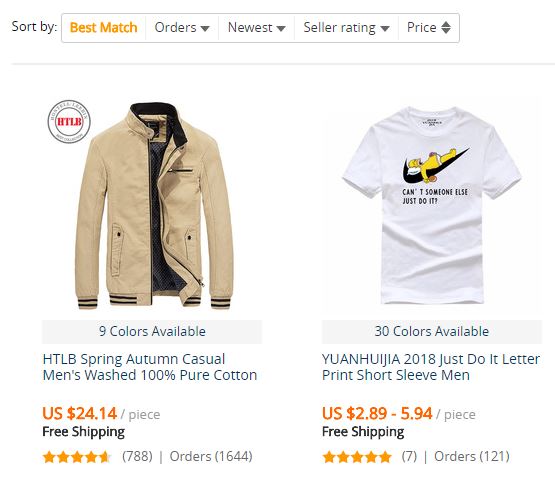 If you want to sell anything you find, can save the images, information, and relist it on your storefront. For Shopify store owners, there's the Oberlo plugin which imports Aliexpress products in a single click.
The key is to price it higher on your website so when you order, profit is generated. For example, if we sold the above jacket for $50, there'd be $26 left over as we order it for $24.
Drive traffic to your store through social media, email marketing, and SEO. A casual dropshipping store will require very little time to maintain while driving the occasional sale.
To scale your dropshipping business, you can take the profits and reinvest them to increase sales.
How to boost dropshipping sales?
With Facebook ads. 

Even $5 per day can drive traffic to your store. 

If you choose Shopify, it integrates with Facebook, making it easier for customers to buy right from the page. As you collect data from your ad campaigns, you can use it to refine the audience you target. This will increase your conversion and click through rate since you'll display ads to the most likely buyers.
By reinvesting into influencer marketing. This is a low cost and high ROI strategy that involves sending a free product to people with large followings. They show it off to their followers and direct them to your store.
This is an effective tactic for driving targeted traffic to your dropshipping business and can easily lead to sales. Since 60% of consumers agree they've been influenced by a social media or blog post, this isn't too surprising.
To find influencers, browse for individuals in your industry with a sizable audience on social media. Instagram is especially great for this. Message or email them with a pitch about sending a product for them to promote. Many will gladly accept this.
Use a combination of these strategies on a regular basis. You will see your dropshipping sales and traffic steadily increase.
On the Hack the Entrepreneur podcast, we've interviewed many e-commerce success stories. These two used Amazon FBA to start their side hustles and had so much success they created products to help other dropshipping entrepreneurs achieve the same thing:
4. How to start a side hustle with your professional skills
If there's one side hustle that requires little to begin yet can be very lucrative, it's consulting.
The global consulting industry is valued at $275 billion as of 2018 and it's only going up.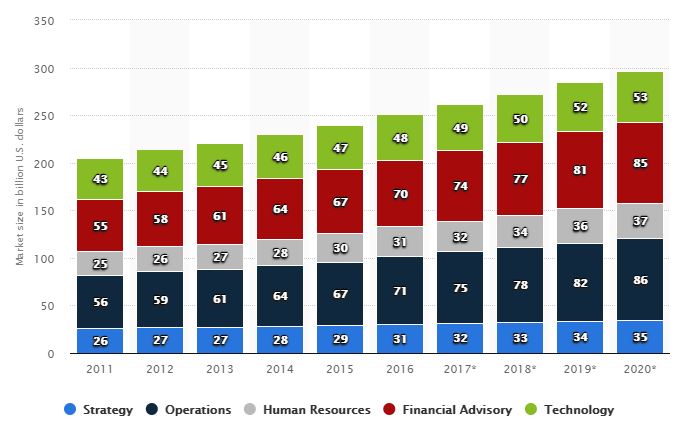 You can start a consulting business too and get a piece of the pie.
How to start consulting on the side
Take yourself seriously
Brainstorm your existing skills
Identify an existing problem you can solve
Find someone with this problem
Email them and get them on the phone
Make an offer for a small first step to solving their problem
Agree to terms
Under promise and over deliver
All you need is one thing. Knowledge.
If you're going to consult others in a certain field, you have to be an expert. It's essential that your advice will make a noticeable improvement in their results.
Brainstorm your greatest skills and areas of expertise. Think of any certificates, degrees, or professional experience you have. Is it a language? A specific business model?
It can be anything from marketing to nutrition to productivity. Here are a few experts who have turned their knowledge and passion into a consulting and speaking business:
People will pay a premium to learn from an expert. You just have to choose one skill and find your first client.
To turn any side hustle into a business, you need to create a website where potential clients can find out what you have to offer. All of your outreach should attract people to your website, where you will create an awesome sales page.
Here are some questions to ask yourself to get started:
What's the main benefit my client will gain from consulting with me?

What will I charge per hour?
Let's say your professional experience is in sales and marketing for clothing retailers, and you want to offer consulting services to fashion designers. The benefits of consulting with you would be growing their business and making more sales.
If your consulting can directly help the client earn more money themselves, don't be afraid to charge a bit more. It becomes an investment for them as it will pay off later.
Attending local networking events is another great and immediate strategy to find clients. Print out business cards before you go and practice a pitch you can offer.
5. Side hustle ideas for teaching: online courses
Knowledge is always in demand.
So, it shouldn't be a surprise that the online learning industry is a market in the excess of $100 billion.
Teaching a skill that you excel in is one of the best side hustle jobs out there. And you can create a scalable business around it as you build an audience.
Not convinced? Check out these interviews with people who have created a full-time business around teaching courses in their field of expertise:
There are several online education platforms to use, including Udemy.
Sign up for a free account and from the instructor dashboard, click "Create Your Course."

You will be prompted to enter a course title and answer some basic questions. The next steps include planning the course, creating it, and publishing it for review.
Udemy enables instructors to make sections, tests, quizzes, add resources, and more. All of these features combined enrich the students learning experience while giving you the tools to improve your side hustle.
When you're brainstorming a course to teach, ask yourself these questions:
What are my greatest skills?

What's my ideal student?

What tools or resources are needed to learn?

How can I break down the course into chapters?

What's a fair price for learning this knowledge?
This will give you a good foundation for putting it together. And remember to never start from scratch.
After you're satisfied with the course, you can publish it by clicking "Submit for Review".

If you're wondering "How do I get people to buy my course?", Udemy will take care of that for you. Instructors receive 50% of the course price when a user enrolls through the platform. If you refer the student yourself, you keep 100% of the profits.
Just like the other side hustle ideas we've covered, like self-publishing and consulting, teaching online courses can become a full-time business if you build a brand around it. 
This means that you shouldn't limit yourself to Udemy or similar platforms. You can create your own website to promote courses and build a dedicated following.
If you go this route, take the time to learn the basics of SEO and content marketing. Combined, they will grow your website's organic traffic, which can convert to paying students.
Email marketing is another useful skill to learn, which allows you to build relationships with students and keep you on their radar as you launch new material. In fact, using email marketing for any of the side hustle ideas in this guide will help you grow an audience of loyal customers.
One of the best perks of selling courses on a personal website is that you keep all of the revenue. It also shows that you're serious about teaching and improves credibility.
6. Side hustle ideas to monetize your passion: YouTube channels
Do you have video editing skills and enjoy being creative? Then building a YouTube channel is a great venture to pursue.
You can monetize a YouTube channel with e-books, courses, affiliate marketing and more. This will further bump up revenue.
Videos you create can be literally about anything. Here are some ideas to get you motivated:
Cover news in a niche you enjoy

Vlog and show your daily life

Talk about your greatest passions or hobbies

Create tutorials and guides

Make comedic or entertaining videos
Collaborate with other channels to increase your subscriber base. This helps both of you grow and can lead to further opportunities.
Ensure that you have social media accounts and a website set up, too. Keep a consistent brand image across all of these pages.
Make a consistent schedule for posting videos and your channel will scale with time. As it grows, so will your revenue.
7. How to start a side hustle blog
Are you passionate about something and want to turn it into money? If so, a blog is a good direction to take.
Bloggers get to write content and share ideas at their own pace, making it an excellent side hustle business.
They are also monetizable in so many ways and can be started for free with platforms like WordPress.
Here are some interviews with bloggers that took a side hustle blog to the next level:
To earn money with your blog, I'd recommend starting with affiliate marketing. It's a simple business model that involves promoting other brands' products for commissions. To learn more, check out our definitive guide to affiliate marketing. 
You don't have to worry about inventory, shipment, or any of the hard work. You just get paid.
To find affiliate programs, search Google for:
Keyword + "affiliate"

Keyword + "affiliate program"

Keyword + "become an affiliate"
The keyword should be related to the topics you write about. This way, you can promote relevant products to your audience.
Build up your traffic by learning SEO, social media marketing, and email marketing. With any of the side hustle ideas in this guide, learning even the basics of these skills can create huge results.
Stop waiting around and start building up a side hustle today.