Do you want to know how to start a blog?
Cool, welcome to the party.
It's true, blogging can be a great hobby to share your knowledge.
Contrary to what you might think, blogging is still one of the best online businesses to start.
Because so many businesses have a blog, it's easy to forget how many businesses started as a blog.
Blogging can help you establish authority in your subject while earning money in a variety of ways.
If you are ready to get started with blogging, we recommend one course exclusively — that's Launch Your Blog Biz and it was created by Alex and Lauren at Create and Go.
Blogging took Alex and Lauren from young professionals living every second for the weekend to making over $100,000 per month and traveling the world in our twenties!
And with Launch Your Blog Biz, they teach you the step-by-step solution for taking your blog from $0 to $1,000/month with free traffic and affiliate marketing. Make sure to read our complete review of the course.
But if you've never set up a website before, it can be intimidating.
Fortunately, I've compiled everything you need to get your blog up right here.
I've covered every step, from choosing a blogging platform to setting up Google Analytics, and lots more!
I've left out all the fluff and to help you get started on the right foot — without wasting any time.
How to start a blog (in 6 steps):
Step 1: Choose the right blogging platform
Step 5: Five pages every website needs
Step 6: Essential WordPress plugins for bloggers
[Bonus #1] Google analytics set up guide
[Bonus #2] Google Search Console set up guide
1. Choose the right blogging platform
You can start a blog and manage it quite easily today. But with so many options, it's hard to choose a content management system.
For example, platforms like Tumblr, Medium, and Blogspot let you post your writing without too much effort.
But if you're serious about blogging in 2020, your best bet is WordPress.
WordPress is highly intuitive to use and extremely versatile. Instead of pre-set templates, WordPress works with third-party themes and plugins.
That means you can make your blog look and function almost any way you can imagine.
Without getting too technical, here's why WordPress is great for bloggers:
1) Easy to use
WordPress has a well organized and intuitive interface that's perfect for beginners. If you want to set up your blog with the least amount of hassle, WordPress is a smart choice.
2) Great ecosystem
With 32% of the internet running on WordPress, you'll be part of a massive ecosystem. That makes it easy to access resources like guides and tutorials for WordPress users of all skill levels.
There's also massive support in forums on Reddit and StackExchange in case you get stuck.
3) Good third-party support
WordPress works with themes and plugins created by external designers and developers. Don't worry if you don't know what I'm talking about — you will soon understand how great this flexibility is for your blog.
For now, all you need to know is that themes make your blog look amazing, even if you suck at design. I'm a big fan of Studiopress, which has a ton of cool themes you can check out here.
Plugins add cool functionalities to your blog, like a shopping cart or live chat system.
The WordPress universe can be a little confusing with all the hosting, themes, plugins, etc. Let's start off by clarifying how it works.
Is WordPress free?
Yes and no — let me explain.
WordPress.org is free open source software.
Here's how to use it for your blog:
Set up an account with a hosting company: Keep reading to learn more about hosting.
Install WordPress: It's free and easy to install. It's also easy to use — you won't have to learn code.
Build your website: Use themes and plugins to make your blog look and function exactly how you want.
There is a cost of running your blog this way, and it's determined by:
Your hosting plan
Any themes or plugins you purchase
For a totally free WordPress blog:
Use the free starter plan at WordPress.com
Start a simple but very limited blog
Why do I not recommend the 'free' approach?
WordPress.com has a free hosting plan that lets you set up a blog and run it through their platform.
This might seem like the obvious choice — who doesn't want free and simple, right?
If you are planning to make money online by building a business around your blog or doing anything beyond sharing with friends and family, you need more power and flexibility. WordPress.com will run ads on your blog and collect the money for YOUR traffic.
Using WordPress.com, or any other free website builder to start your blog really limits what you can do.
Here are the biggest reasons NOT to get a free website:
1) You don't get your own domain name
With free options, the name will include the platform associated with your blog.
For example, instead of yourblog.com, it will be something like this:
yourblog.wordpress.com
yourblog.blogspot.com
yourblog.tumblr.com
2) Limited modifications
Free is fine if you want a small cookie-cutter blog. If you plan to take your blogging seriously, you will need more options.
As you build an audience or start an online business around your blog, you'll become frustrated with the limitations of a free plan.
For example, free plans limit how many videos and images you can post.
You might want to start building an email list, or selling products. And you will definitely want to promote your blog and get found on Google.
When you do, you'll be forced to upgrade to a paid subscription anyway.
3) You're not the owner
When you host your blog for free, whether it's on WordPress.com, Medium, or Wix, they own it. If they want to delete it, they can!
Plus, when you're ready for a more custom platform, you'll have to start from scratch.
Now how does the free approach sound?
Not cool, right?
What about Wix?
Enough said.
While these website builders are free to use, they severely restrict key functionalities, will hold you back from growing your audience.
If you're serious about blogging, avoid the dumpster fire.
Your 'free' account can end up costing a lot of frustration and money when you're forced to upgrade.
WordPress.org (self Hosted blog)
Instead, I recommend the self-hosted approach — using free WordPress software on your own web hosting account.
While the self-hosted approach requires a bit of extra work, it opens up the entire functionality of WordPress. More importantly, it gives you complete ownership.
The bottom line for starting a blog:
If you're serious about blogging and want to make money from it, a self-hosted website is the way to go.
The good news?
Hosting is not expensive, and WordPress CMS is free.
If you follow the steps in this guide, your blog will only cost $5 to $10 a month. That's chump change considering the value you get in return — a custom WordPress blog that looks pro.
2. Give your blog a name
On the internet, every website, blog or resource has a unique domain name. It's like an address — a name typed into a browser to get to your blog.
For example, when you type my domain name 'hacktheentrepreneur.com' into your browser, you'll go straight to my home page.
Your blog name is basically your business name, and it's a big part of your brand. Figuring out how to choose a business name is tough. Not only does it need to be evocative and memorable, it needs to be available in the first place.
Picking a name for your blog can be overwhelming. You want it to be perfect. After all, the domain name is the first impression people have of your blog before they see any of your writing.
Read our complete guide to coming up with a business name.
It's much easier to come up with ideas once you know what niche you serve and who you target. This is the same process we use to generate viable online business ideas.
Spend some time writing down words to describe your audience. Focus on how they describe themselves.
For example, if your blog is for dog owners, what kind of dog owners are you targeting? Do they identify with the term dog mommy or does that make them cringe?
Then, start brainstorming:
Combine a word that identifies your niche with your unique contribution.
For example, my blog serves entrepreneurs. My contribution is helping entrepreneurs grow an online business efficiently and effectively.
Hence the name 'Hack – The – Entrepreneur.'
So what's the best name for my blog?
It's easy to get hung up on trying to figure out the best name for your blog.
While it is essential — it's more important that you decide on a name and move on to the next step.
To help you decide, here are a few characteristics of an ideal domain name:
Original: Do not try to copy another popular name.
Short and clear: Keep it simple, so it's easy to remember.
Easy to spell: Don't get too creative with invented words, or people won't know how to spell it.
Common extensions: These extensions are common, therefore easier to remember: .com | .co | .org | .io
Pro tip: You know you have a good domain name when someone can understand it over a call with bad coverage.
Fun Fact: Most people change the name of their blog at some point. Your domain name doesn't have to be permanent, so don't get hung up on perfection.
Where do I get a domain name?
Once you have some name ideas, it's time to head over to a domain registry service.
You can research to see which of your choices are available, then pay a fee to register your final choice.
My recommendation: Namecheap
GET 46% DISCOUNT ON YOUR DOMAIN Use Coupon Code: NEWCOM
Why do I recommend NameCheap?
1) Affordable pricing
Namecheap lives up to its name.
For as little as $9.00, you can register your domain for a year. You can go here to get yours today.
While this isn't the cheapest you'll find (Godaddy starts at $7.95), it's actually much less expensive in the long term.
This is why you have to read the fine print:
Godaddy's price is more than double to renew. In the second year, it jumps from $7.85 to $16.95.
While Namecheap has a slightly higher initial price, it stays the same every year — no surprises. Search for your domain name now!
2) Free WhoisGuard
Domain registrars are required to keep a WHOIS database for all the domains they host. They submit information about who owns the domains to a central authority.
This can result in anyone, including spammers, finding your contact information.
Namecheap includes free WhoisGuard protection for as long as you keep renewing the domain. That's a considerable cost saving of at least USD$7.99 per year.
Sweet, right?
You can click here to go find your perfect domain right now.
3) Live chat support
Unlike other companies, Namecheap has a fantastic customer support team that you can reach via phone, email or chat.
How to get a domain with Namecheap
Step 1: Go to Namecheap and enter your domain name
Step 2: Choose the best available domain name and add to cart
This part can get tricky — if you use a common name, the .com extension might be unavailable.
If that's the case, you can try:
Changing up the name a little.
Choosing a different extension like .org, .co, .io.

3. Get the right host
Now that you have a name for your blog, you need to find a place for it to live.
If you don't know much about computers, a topic like 'website hosting' sounds like rocket science.
In a nutshell, hosting companies:
Operate networks of computer servers.
Store and protect the data that makes up your website.
Make your website accessible to people on the internet.
Just think of hosting as a place (servers) to store (host) your website (data).
I can't emphasize enough how important good hosting is for your blog.
What's the best web hosting for a blog?
The function of a host is to keep the data of your blog safe and accessible.
When you're just starting, you might want to pick the cheapest hosting service. This is the worst thing you can do for your blog.
You're looking at an endless spiral of problems, like slow loading times, and crashes. Add bad customer support to the mix and you'll want to throw your computer out the window.
Instead, here's what to look for in a hosting company:
Excellent customer support: Get help quickly when you need it.
High uptime rating: Percentage of time servers are working and accessible (vs. downtown when your site is crashed and nobody can access it).
Economical pricing: The most expensive hosting is not necessarily the best.
My recommendation: SiteGround
If you're serious about the security and speed of your website, SiteGround is the best option you can find among WordPress hosting providers.
SiteGround is one of the few hosting providers recommended by WordPress, and that says a lot about their quality as a WordPress host.
To get the full scoop, head on over to our complete SiteGround hosting review.
Why do I recommend SiteGround?
You shouldn't have to do a deep dive on the technical aspects of servers and web-hosting. You just want your blog to work – and so do I. With that said, here's why I recommend you use SiteGround when setting up your blog.
1) Well-trained customer support
SiteGround support is excellent — the reps know their stuff. If you're setting up hosting for the first time, they can walk you through it.
When your blog is down (which almost never happens with SiteGround), their support is fast and easy to access. There are multiple ways to reach them, so you can choose which one you prefer: phone, email, and even live chat.
Fun Fact: They offer priority support with higher tier plans.
2) Top-notch servers (with 99.99% uptime)
SiteGround uses some of the best servers loaded with the best technology and architecture in the industry.
It also has the highest uptime rating of 99.99%. That means you can reasonably expect your website to be live 99.99% of the time.
So you can rest assured your blog and its data will remain secure and accessible to the internet at all times!
3) Ease of use
Customer support is helpful, but it's even better when you don't have to use it — an interface that's easy to understand goes a long way.
It's really simple and easy to manage your blog hosting with SiteGround because it has an intuitive interface.
The interface is well-organized in sections, with detailed icons so beginners can understand what they're looking at.
For a more detailed review, I recommend checking out my SiteGround review.
How do you get hosting with SiteGround?
Of all the reasons to use SiteGround to host your blog, ease of use is near the top of my list. Let's take a look at the four simple steps it takes to get SiteGround WordPress hosting.
You can get started with SiteGround by clicking here.
Step 1: Go to SiteGround and choose Managed WordPress Hosting
Then choose which hosting plan you want:
If you're starting, I recommend the GrowBig Plan which is the cheapest SiteGround plan that lets you host multiple websites. It offers the most value for your buck!
Step 2: Connect your new domain to the hosting account
First, select 'I already have a domain' and then enter the domain name you got from NameCheap and click 'Proceed.'
Step 3: Fill in the details and make payment
Fill in the account information and proceed to payment.
Note: SiteGround renewal prices are three times that of the promo price so opting for a longer subscription saves you cash.
Step 4: Install WordPress on your new website
SiteGround makes it really easy. When you log into your customer area for the first time, just choose 'Start a new website.'
The installation wizard will do the rest — just follow the steps and set up your WordPress account.
You're done!
From now on, you can manage your website by logging in to your WordPress dashboard at:
yourdomainname.com/wp-admin
4. Designing your blog
Now that you have a domain name and hosting, it's time to get to the fun stuff — designing your blog!
There are two ways to go about this:
Hire a WordPress Developer
Get a WordPress Theme
Developers are expensive. I don't know about you, but most people don't want to invest in a custom design when they're just starting.
With a theme, you can make a great-looking blog without hiring a developer.
What is a WordPress theme?
In a nutshell, a WordPress theme is like a collection of templates. It defines the look and feel of your blog.
Most importantly, it gives you the ability to create a website without writing a single line of code.
Some premium themes, like Thrive Themes, operate more like design software, with drag-and-drop blocks for text, images, and other elements.
You can click here to find a great Thrive theme for your site.
The theme you choose will determine:
The visual design of the website
Typography
Colors
Page layouts
Styles for your articles
All you need to do is add your logos, text, and images to set up the pages you want.
The theme will ensure that your pages work together to create a visually appealing and functional website.
Free vs. paid WordPress themes
The WordPress theme industry has thousands of themes, and many of them are free.
Why not save money and go for a free WordPress theme?
Here are the four biggest reasons to pay for WordPress themes:
1) Reliable code
There's a lot that goes into making a WordPress theme, but that's just the first part. There's also ensuring everything continues to work and remains compatible.
Theme companies have developers on staff to fix bugs and update code so it keeps working as internet technology changes.
With a free theme, you don't have anyone working on the back end and this often leads to compatibility issues. That means bugs, errors or worse — downtime!
2) Dedicated support
Most people who use WordPress themes for a blog lack technical knowledge — they're bloggers, not web developers.
Paid themes offer customer support, with some extending to live chat. This is a life-saver for anyone who is not a developer and just wants to make a nice blog that works.
3) Better community
Apart from excellent customer support, most paid WordPress themes have an active community. That means lots of people using their themes and talking about it on social media and in forums.
Chances are, if you're trying to create something on your blog and can't figure it out, someone else has already posted the answer.
4) Highly customizable
Paid themes offer a higher degree of customization than free alternatives.
Although themes are created by developers, they are designed for regular people to use — without learning how to code. A good theme can make your blog look exactly how you want.
Bottom line:
While paid themes cost money, they offer advantages you'll miss out on with a free theme.
Best WordPress themes for bloggers
To pick the right theme for your blog, you'll have to sift through a ton of options.
I'll save you some time: there is only a handful of theme developers worth the money.
Here are the two I recommend:
StudioPress
StudioPress is a top WordPress developer. It has more than 200,000 happy users, thanks to its beautiful and reliable themes. The blog you are reading right now uses the Maker Pro theme from StudioPress.
If you like this theme, you can get it here.
Read our full StudioPress themes review and get the inside scoop.
Here are the best reasons to get a StudioPress theme:
1) Fast and easy setup
Even a non-techie can set up a professional WordPress website super fast with a StudioPress theme.
It has a library of awesome layouts, so you all you have to do is pick one you like, install it, and start dropping in your content.
Who needs a web designer right?
2) Reliable and lightweight code (SEO-Friendly)
Without getting too technical, StudioPress themes work on a "theme framework" called Genesis. When you choose a layout option, you're just choosing the visual design elements.
Genesis Framework is the core foundation code for a WordPress site. It's rock-solid, reliable, and fast — and it's included with any theme you purchase from StudioPress.
Over the years I have used many themes, but never once have I experienced performance issues with StudioPress. In fact, I have the same speed as a website custom-coded from scratch:
My website scores really well for page speed, thanks to the clean and lightweight code of Genesis Framework.
Page speed is important for SEO and user experience — nobody likes a site that takes forever to load! A theme with unreliable and clunky code slows everything down.
3) Great customer support
The support by StudioPress is top-notch. You can get premium support any time of day, plus lifetime updates on all their products.
4) SEO-friendly integrations
StudioPress themes include built-in SEO tools that mitigate the need to install additional SEO plugins.

Recommended WordPress theme 2: Thrive Themes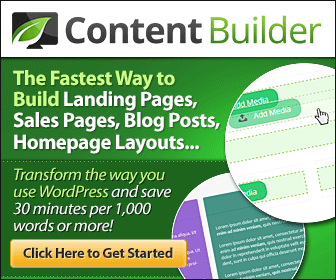 Thrive Themes is a conversion focused WordPress company. Thrive's WordPress themes and plugins are designed to help you convert readers into subscribers and customers.
That means it's great for bloggers who want to build an email list or start an online business.
Best reasons to get Thrive Themes
Thrive Themes offers way more than stand-alone WordPress themes. They provide a bundle of plugins and themes that work together.
1) All-in-one package
With a full package from Thrive, you get everything you need to make sure your blog is effective in getting you more customers and clients.
The Thrive Theme package includes:
Thrive Themes: An array of beautiful WordPress themes focussed on conversion.
Thrive Leads: Eye-catching, effective email opt-in forms.
Thrive Architect: A drag and drop page builder (I use it to make sales pages).
Tons of plugins: Grow your business with tools to publish testimonials, post a quiz, make a sidebar, and more.
Thrive Themes includes so many built-in features you won't need to buy any external plugins. You'll save money and your website won't be slowed down.
2) Huge library of layouts

Each Thrive Theme comes pre-built with close to a hundred layouts. For a non-designer, that's really helpful.
You can make your home page, landing pages, contact page, and sales pages look great with professionally-designed layouts. Just drop in your text and images.
3) Good for conversion optimization

Thrives Themes primarily focus on optimizing conversion. The built-in features work together to make sure you get the most out of your visitors.
GeneratePress

GeneratePress is focused on speed, reliability, and ease-of-use.
It doesn't have a lot of bells and whistles, but it's an affordable option for a fast, clean, and simple blog.
Best reasons to get GeneratePress
1) Performance
One of the highlights of the GeneratePress theme is its excellent performance.
It is developed with clean and lightweight code. With no extra frills, it's great for SEO and fast loading time.
2) Free site library
This theme sports an excellent library of layouts that let you build a fully functional website in a matter of minutes.
3) Simple and intuitive website builder
Another advantage of GeneratePress is its highly customizable website builder. It enables you to customize your blog without much hassle.
5. Five pages every blogger needs
I know you're excited to start blogging. But before you start writing, you need some basics on your website so readers know what you're all about. It doesn't matter if you want to start selling online courses or start your own blog about motivation quotes, these same pages are necessary.
There are five pages every blog needs to give readers a better experience on your website.
How to create a new page in WordPress
Considering it's your first time building a blog on WordPress, here's how to create a new page:
1. From your WordPress dashboard, go to pages and click 'add new.'
2. Give your page a title, and start adding some content. When you're happy with how it looks, hit 'publish.'
Remember: Once you hit 'publish' your page is live. If you don't want to publish it right away, save it as a draft.
Great! You now know how to create pages on your blog.
Page 1: Home
Your home page without a doubt is the most important page on your blog.
Why?
Because it's the most visited page, and usually the first thing new visitors see.
Your home page should describe what your blog is about and draw visitors deeper into your blog.
As you can see my home page clearly portrays who I am and what I do:
I establish trust by showing some online publications I've written for. I also ask people to go deeper by subscribing to my email list.
Page 2: Blog category
While most people use their homepage to display posts, I like to have a dedicated page for all my articles — a blog category page. On Hack the Entrepreneur, we also have a podcast category page.
If you plan to consistently publish, you'll end up with a huge disorganized collection of articles. Readers will have a hard time finding what they want to read, and new visitors won't know where to start.
With a blog page, you can create your articles as blog posts, and organize them with categories and tags.
For example, Smart Passive Income has a massive collection of content and uses a nifty slider to filter categories. It's really easy for readers to find what they're looking for.
Page 3: Contact
Your blog will open the door to many opportunities. Over time people will be interested in working with you while others may want to get in touch.
But how do they contact you?
Posting your email address on your blog is a terrible idea. You'll understand why pretty quickly — your inbox will get spammed.
That's why you need a page with a contact form. Nothing fancy, just a simple and concise form,
Just a simple form and a message about how quickly you usually respond is fine. Here's a great example from SoulSalt's contact page.
Note: I recommend using the Ninja Forms plugin to create beautiful contact forms.
Page 4: About me
People like to know what's going on behind the scenes, or rather who's responsible for the content they're reading.
They are more likely to trust your website (and your business) if they see a face behind your blog.
For example, Gemma and Alistair Clay from Class: PR strike a perfect balance between storytelling and social proof and is an excellent example of an about page.
Having an about me page helps visitors learn more about you, and establishes a personal connection.
Page 5: Privacy policy
In the age of GDPR and privacy concerns, this page is essential to every blog.
Here you outline the personal information you collect from your visitors — for example, emails and names collected via opt-in forms.
Once again, don't overdo it. I use a simple text page that clearly displays my privacy policy without any fluff.
If you plan to use a third-party ad network, you'll have to mention the use of cookies clearly within your privacy policy page.
Note: You need to have a privacy policy page if you want to display ads from Google and other networks.
Here are a few tools to help you create a privacy policy page.
6. Essential plugins for bloggers
With your website launched and essential pages in place, you're ready to start blogging.
While most beginners avoid using plugins, they are a necessary part of the blogging process.
If you don't pay attention to optimizing and maintaining your website, it won't work as well as it should.
You'll have a hard time getting traffic, and converting traffic into customers — both essential if you want to make money with a blog.
That's where plugins come in.
Plugins are bundles of code that add functions to your WordPress blog. They also automate some administrative processes so you can focus on more productive things, like writing awesome blog posts.
While plugins are great, adding too many will end up slowing down your blog.
To get you started on the right foot, I've listed the best plugins for a new blog:
Yoast for SEO: Optimizes your blog for search engines
Search engine optimization (SEO) in the blogging world is a big deal!
Getting on the first page of Google is one of the main ways to get more people reading your blog.
Now, while many ranking factors go into SEO, optimizing content for search engines is essential. Yoast helps you make sure your blog posts are written and formatted properly for search.
Note: You can skip the XML sitemap plugin as Yoast takes care of this too
Social Warfare: Gets your blog shared on social media
Social Warfare adds lightning-fast social share buttons to your blog — and they look great on every screen size.
That means sharing your content on social media will be fast and easy for your readers.
W3 Total Cache: Makes your blog load faster
W3 Total Cache is another essential plugin that helps with SEO and the user experience of your website. It optimizes performance to reduce load time.
OptinMonster: Helps grow your email list
OptinMonster is a plugin for creating lead capture forms, focussed on high conversions.
If you want to grow your business with email marketing, you need to create valuable lead magnets and make sure your signup forms get noticed.
Ninja forms: Builds forms for any purpose
Ninja form is a form builder that helps you collect information from your readers. This plugin makes it super easy to create beautifully-designed forms and drop them anywhere you want on your website.
For example, you can use Ninja Forms to create a quote request, event registration form, or even a simple contact form.
[Bonus #1] Google Analytics set up guide
Google Analytics gives you valuable insight into your website traffic.
Beyond how many people are visiting your site, this essential tool breaks down tons of information:
What pages they visit
How long they stay
What they click on
How they found your website
What countries they're in
This data is essential to learn the inner workings of your website, so you can assess whether it is accomplishing its purpose.
While this data may not mean much when you don't have much traffic, it's essential to integrate it from the beginning. Collecting valuable data right from the start helps you avoid gaps.
There's a ton of data in your Google Analytics account, and you don't need to dig too deep at the beginning.
Tracking these three metrics will help guide your decisions around what to write and how to promote your blog:
Overview report: A quick glimpse of your blog's audience for a certain period.
Most Popular Posts: This helps you find out what type of content is resonating most with your audience.
Referral traffic: Gives you the top 10 websites sending you traffic. These are sites linking to your blog within their content.
Setting up Google Analytics
Now you know Google Analytics is a must — but setting it up can be tricky.
This section walks through the entire process of setting up Google Analytics to your WordPress website step-by-step.
Step 1: Sign up for Google Analytics
Fill in the required information, and click 'Get Tracking ID.'
Step 2: Get the tracking code to your blog
Once you add the website, you will get a Tracking ID. Under this, you'll find the 'Global Site Tag.' It contains a code snippet which is your tracking code.
Step 3: Add the tracking code to the header of your blog
Copy the tracking code, and paste it into the <Header> section of your blog.
If you're using a StudioPress theme, the Genesis Framework makes it easy. In your WordPress dashboard:
Find Genesis in the menu along the left side
Click on Theme Settings
Scroll down until you see the field <Header Scripts>
Paste your tracking code into the field
If you're not using Genesis, you can either:
Contact support for the company that made your theme: Ask them where to manually add your tracking code to the header.
OR
Install free plugin Insert Headers and Footers: Use the plugin to add your tracking code to any theme.
That's it!
You've just added Google Analytics into your website.
[Bonus #2] Google Search Console set up guide

Search Console is another essential data tool. In particular, it provides data on how your blog performs on search engines.
You want people to find your blog when they search for information on Google. The data in Search Console helps you to know when you're on the right track with your content.
Search Console provides valuable data like:
What keywords and queries bring in traffic?
What are your top performing keywords?
Google Search Console helps you understand how effectively you are targeting and optimizing your content for SEO.
Setting up Google Search Console
Here's a step-by-step walkthrough on how to set up the Google Search Console for your blog.
Step 1: Create an account with Search Console
Go to Google Search Console and click 'Start Now' to create an account.
Then click 'Add a Property' and enter the domain name of your blog.
Step 2: Verify ownership using Yoast
There are several ways to verify your blog, but I recommend using the Yoast SEO plugin.
All you have to do is copy and paste the HTML tag into the plugin:
Step 3: Add the code into your blog
Find Yoast SEO on the left side menu of your WordPress dashboard.
Go to 'General' settings and paste the code you got from Google Search Console.
Step 4: Verify with Google Search Console
Once you add the code click 'verify' and you should get the confirmation.
Congratulations you've successfully connected your blog with Google Search Console!
Final thoughts on blogging in 2020
Now that you have everything set up to start your blog the real work begins — writing blog posts and building an audience!
I won't lie to you. It's going to take a lot of work and time (maybe months) to see a noticeable change.
You may even feel stupid for spending so much time on something with an unpredictable return. Trust me — once you get that first win, things start to change pretty fast.
It took me 7 months before I made my first sale but after that, my website took off.
While blogging has many advantages, it's definitely not easy. There's a lot of work to be done. And no matter if you want to become a professional blogger like James Altucher or simply write about your favorite recipes, blogging is a great skillset to learn.
But for now, give yourself a pat on the back for doing something awesome — starting a blog!
For more information on starting a monetized project like this, check out our Online Business Checklist for a step by step guide.
Go grab your new WordPress hosting account at SiteGround and get started on your blogging journey.