If you're starting a website, you're going to need a WordPress theme that fits your brand. But with 1,000s of options out there, it's hard to know where to even start.
That is the exact reason why I wrote this StudioPress themes review.
A theme, simply put, is what determines the appearance and layout of your particular website. They consist of sets of stylesheets and templates, created by web designers and developers.
Themes can be bought ready-made and further customized, or created entirely from scratch. While totally custom themes have their place, the vast majority of websites don't need anything like that.
Instead, it makes a lot more sense to buy an existing theme, and then tweak and customize it slightly to make your site a little more unique.
StudioPress Themes Review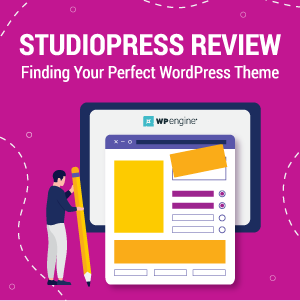 Product Name: StudioPress Theme
Product Description: StudioPress combines expert knowledge in SEO, design, performance, security, support, and (of course) WordPress to help you build reliable, beautiful WordPress sites.Here at Hack the Entrepreneur, we've had great success with StudioPress themes, and we use them for quite a few of our SEO clients. So if you're shopping around for a theme for your site, we'd definitely recommend them.
Beautiful, mobile-ready designs

Out-of-the-box SEO Optimization

Blazing fast performance

Rock-solid Security

Ultra-customizable

Outstanding support
Summary
StudioPress theme helps you build amazing WordPress sites. StudioPress combines expert knowledge in SEO, design, performance, security, support, and (of course) WordPress to help you build reliable, beautiful WordPress sites.
Pros
Beautiful, mobile-ready designs
Out-of-the-box SEO
Blazing fast performance
Rock-solid Security
Ultra-customizable
Outstanding support
Trusted by 213,675 customers
Cons
Not the cheapest themes available
So where do you get a good theme?
There are quite a few different WordPress themes out there, built on one of a number of frameworks.
WordPress itself is quite customizable, and so you'll see tons of sites running on it that look totally different from one another.
One of the most popular theme frameworks is called Genesis. Genesis themes are visually appealing, effective, and easy to use, making them perennially popular among entrepreneurs, bloggers, and digital agencies.
Especially for relative beginners, the Genesis framework is a great place to start.
You can go here to learn more.
One of the best places to get a great Genesis-based WordPress theme is StudioPress, the creators of the Genesis framework.
In fact, Genesis comes free with any StudioPress theme you buy.
If you puchase a StudioPress theme using my affiliate link, I will get paid a small commission — at no extra cost to you. I genuinely appreciate your support.
I try to make my reviews unbiased and backed by experience and evidence to help you make the right choice.
StudioPress Themes Review: Is It Right for You? Pros, Cons, and Considerations
Here's are our StudioPress themes review, including the pros, the cons, and some examples of specific themes we've had great results with.
StudioPress Review: WordPress themes that help you build amazing WordPress sites. StudioPress themes combine expert knowledge in SEO, design, performance, security, support, and (of course) WordPress to help you build reliable, beautiful WordPress sites.
StudioPress Pros: Why We Love StudioPress
Here at Hack the Entrepreneur, we've had great success with StudioPress themes, and we use them for quite a few of our SEO clients. So if you're shopping around for a theme for your site, we'd definitely recommend them.
If you like the way our website looks, we are using a slightly modified version of the StudioPress Maker Pro Theme, which you can find here.
Now, let's get into our StudioPress themes review.
Blazing fast performance
Nobody has the patience to wait for your site to load.
In 2020, one of the most important factors in getting your website to rank in Google is site speed. Genesis and StudioPress themes will make your site fast and put you ahead of your competition.
The Genesis framework's underlying code is carefully designed to be clean, concise, and fast — making it easier for you to tweak on-page factors, and for search engines to crawl your site.
Because StudioPress's themes are built using this tried-and-true framework, you'll almost never run into the many common technical problems that plague many other WordPress frameworks and themes.
Out-of-the-box SEO
For SEO, clean code is essential. You need a theme that's streamlined for SEO from the get-go, especially if you're not a developer or designer yourself.
If SEO is going to be a major traffic channel for you, you can't go wrong with a Genesis-based theme from StudioPress.
Quick note: We don't recommend sticking with just the "SEO" section that comes natively with the StudioPress themes in their WordPress admin panel. You'll have better results if you add a plugin like Yoast or All in One SEO.
Popularity
We've mentioned how popular the Genesis framework has become. A full 7% of WordPress sites use it.
And as far as Genesis based themes go, StudioPress themes are some of the most widespread. In fact, an estimated 200,000 websites are built with one of their many different themes.
This staggering popularity speaks to the quality and ease of use of their themes. Plus, with that popularity comes a massive selection of tutorials, blogs, and other resources that can help you.
Beautiful, mobile-ready designs
Back around 2015, mobile devices became the dominant form of web browsing. Because of this, mobile responsiveness has become incredibly important for SEO and general user-friendliness.
It's always frustrating when a website clearly wasn't meant for phones and tablets, and you have to awkwardly zoom in and scroll around.
With StudioPress themes, you'll never run into these problems. All of them are fully mobile responsive, meaning they look just as good on your phone as they do on your PC.
When you're running a website, that's one less thing to worry about.
Rock-solid security
WordPress has long been known to be vulnerable to various security issues. Chances are, you know someone whose site was hacked or compromised at some point. It happens.
The Genesis framework is known for its security. For example, one common issue that can make a site vulnerable is a lack of recent updates.
With StudioPress's many Genesis-based themes, updates are simple and automatic — but, they've been evaluated beforehand to ensure they're not going to come with any bugs or cause any major problems.
Ultra-customizable
If you're like most people, you don't want your site to look too generic. It needs to stand out, at least a little bit.
Plus, depending on what you're doing, there might be certain functionalities that you're going to need.
For example, let's say you're using ConvertKit for your email marketing campaigns. You'll need to integrate it into your website and add an email signup form for your readers.
(You can sign up for ConvertKit here.)
With Genesis, it's quite simple to do things like that, and you'll find tons of online blogs and tutorials that can walk you through the process.
One of the biggest reasons Genesis themes are so perennially popular is their endless customizability.
Whether you want to change your sidebars, forms, social sharing, or really anything else on your site, Genesis makes it simple to customize without touching any code.
Anything on your website can be moved, modified, removed, or reconfigured so that your site does exactly what you want.
Now, to modify your theme past a certain point, you are going to need some degree of knowledge of HTML and CSS. Otherwise, it will be quite a bit tougher.
But, that isn't always a bad thing. An upside of that fact is that it's harder to actively mess up your theme by mistake. And if you're a beginner, that's a headache you'll want to avoid.
Genesis Plugins
WordPress is general is all about the plugins, and the Genesis framework is no exception. You'll find hundreds of different plugins available, for just about anything you can imagine.
Want to integrate your Genesis theme with Woocommerce so you can sell some merch? Set up a portfolio of your published work? Set up archive pages? Add a footer widget? Make your site more handicapped accessible?
There's a plugin for that, including plugins developed specifically for StudioPress themes.
The ample selection of useful plugins is yet another feature that makes StudioPress themes a smart choice for entrepreneurs.
Outstanding community support
Need a hand with your new theme? Not a problem!
No matter how experienced and tech-savvy you are, small problems can always come up with themes. And when that happens, you'll want to be able to find an answer quickly and easily.
One of the best things about StudioPress Genesis themes is the amount of help you can find online. There's a huge community of people using these themes. There are forums, subreddits, tutorials, and more that you can use to help you troubleshoot and fine-tune your theme.
When you purchase any StudioPress theme, you get access to their exclusive community forum.
Plus, even the basic documentation is quite thorough and helpful.
StudioPress Cons: Not Many Bad Things To Say
So we've gone over the reasons we love StudioPress themes. But are there any downsides?
To be honest, most of what we have to say is very positive – that's why we use StudioPress on all of our websites and also why we wrote this StudioPress themes review for you!
But, although they're quite customizable, there might very well be situations where a StudioPress theme isn't the right fit for your site and your business.
It's hard to make that call, because there are so many factors that play into it. But it's definitely something to keep in mind when you're shopping around for a theme.
Shopify has tons of variety to choose from, but every business is unique, and there are always exceptions to the rule.
Finding the Perfect Theme
StudioPress has tons of themes to choose from, designed for a wide variety of different use cases.
Some of the themes are completely free, while others are paid. But you'll notice there are quite a few to choose from.
They're sorted by categories:
Business
Themes sorted into the "Business" category are designed to be a good fit for all kinds of various small businesses. There are themes tailored for specific industries like marketing agencies, law firms, recipe sites, companies that sell online courses, and more.
Enterprise
Enterprise themes are designed to fit the needs of larger companies, which often differ from those of SBMs and startups.
Real Estate
This category features themes designed specifically for real estate agencies.
Photography
Professional photographers need beautiful, easy-to-navigate websites that showcase their best work. StudioPress offers a number of elegant image-centric themes perfect for photography and other visual arts.
Magazine Style
Want to start up a digital publication? Try one of StudioPress's "Magazine Style" themes. Designed for websites centered around publishing text-based content, these themes offer a sleek, professional look to rival the likes of Entrepreneur or Vogue.
eCommerce
Ecommerce comes with its own unique considerations, including factors like payment processing, shopping carts, and the need for top tier security to protect customers' sensitive financial details.
The "eCommerce" section has a great selection of themes that fit online stores particularly well.
Lifestyle
If your site is in a Lifestyle niche, like fashion or nutrition, try one of these gorgeous themes from StudioPress.
You can also sort by one, two, and three column layouts, and by accessibility-readiness.
As we've mentioned, pricing varies. Some are totally free. Others cost money. StudioPress also offers a Pro Plus Package that gives you full access to any and every theme, a useful option for digital agencies.
Whatever kind of website you're creating, chances are that StudioPress has a theme available that would be a great fit for it.
That's part of what's so great about StudioPress — the variety of options, both in-house and third party, that you'll be able to choose from. There's a theme for just about everybody.
StudioPress Themes: 3 Great Examples of Quality Themes from StudioPress+
At Hack the Entrepreneur, we've built numerous client sites using a variety of themes from StudioPress. As we've mentioned, our own site is built with Maker Pro.
Here are a few websites you can check out that were built with different StudioPress themes, each with some additional customization to make them unique.
1. Authority Pro Theme
SoulSalt, the website of author and business coach Lyn Christian, is using Authority Pro Theme with a simple custom colour scheme update, which we tweaked using the Genesis theme customizer tool.
Like this theme? You can get it here.
2. Essence Pro Theme
Primal Peak, an online business run by certified nutritionist Shannon Doleac, is using Essence Pro Theme , with a custom colour and a slightly modified homepage.
You can get the Essence Pro theme for your own site here.
3. Academy Pro Theme
Showrunner, where Jerod Morris and I offer mentorship for people starting a podcast, uses Academy Pro Theme. The color scheme is custom, but the rest is out of the box.
And these are just a small handful of the many thousands of websites using StudioPress.
Build an Awesome Website with StudioPress Themes
If you're looking for the perfect theme for your website, you can't go wrong with StudioPress – and I hope you've learned that from this StudioPress themes review.
Their wide selection of beautiful, fast, secure, and SEO-optimized themes has something for just about everyone.