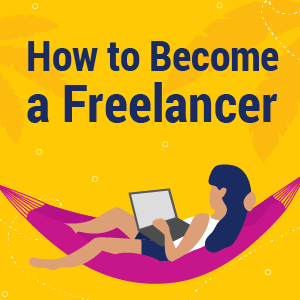 So you want to become a freelancer, work from home (or while traveling), and make a decent living?
I woke up in my beautiful homestay, walked through a lush green paddy field, and then got back to make breakfast.
Then, I started working from home and later visited some friends to practice a bachata dance routine for an upcoming charity event.

Later, I visited my favorite cafe, and after about three hours of work (and many cups of coconut coffee), I left for the beach to de-stress and work out.

As the day turned to night, I cycled around Hoi's beautiful ancient town (think: gondolas, lanterns, etc. ) and finally ended the night with some lovely live music.

Now, I'm far from being a millionaire but I get to live where I want, work on what (and how) I want — and this degree of flexibility makes for a very happy Mark.

And guess what?

This life would be a complete fantasy had I not decided to become a freelancer, and make money online instead of being stuck in a cubicle all day making someone else rich.
And the best part is, you can start freelancing as a side hustle.
So, How did I start freelancing?
I graduated from college in April 2018, with a bachelor's degree in finance, a decent GPA, some job prospects, and pretty much everything I needed to get into corporate.

So, why did I take my chances with freelancing in a domain unrelated to my degree?

Well, there are two reasons:

Higher ROI
Freedom
In India, the median salary of a financial analyst (the job most compatible with my degree) converts to about $7,200 USD/year.

If you do the math on a 40-hour work-week — that's less than 4 dollars an hour!

And to make matters worse, most companies lock you into a 1-year contract which basically means you're tied down to one job (and a cubicle) for an entire year.

*cough* corporate slave *cough*

Fortunately, I was more 'open-minded' than my classmates — and this made it easy to do my own thing despite peer pressure (classic rebel style).

Looking back today had I NOT chosen to jump into freelancing (a seemingly risky step), I would NOT have the privilege to do the following:

Travel to four countries, and see places I never knew existed
Build real relationships with people I could never imagine knowing
Work with insanely smart individuals from around the world
Grow into a person I could never think of becoming
Doubled my earnings in the first year, compared to an entry-level job — probably more than anyone in my graduating class
Start my own business and become an entrepreneur (more on this later)
and much more!
As mentioned in this instagram post featuring one of my favorite motivation quotes: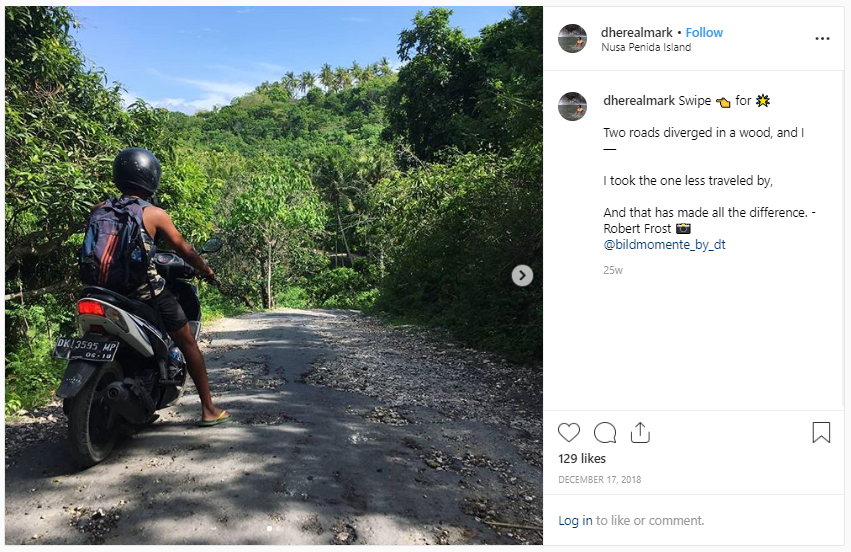 Two roads diverged in a wood and I took the one less traveled by, and that has made all the difference. – Robert Frost
This quote now dictates my life. I am no longer afraid of challenging the status quo to continuously work towards my goals regardless of how 'crazy' they may seem.

In this article, I share everything I've learned and earned from my freelancing journey to help you get started on the right foot without making the mistakes I did.

If you are interested in learning even MORE about freelancing, check out Kai Davis give brilliant freelancing tips on the HTE podcast!
So, grab a seat, refresh your drink, and let's get started!
9 simple steps to becoming a successful freelancer:
Step 1: Have the right mindset

Step 2: Define your freelancing goals

Step 3: Pick your service and industry

Step 4: Identify and document your ideal clients

Step 5: Define your deliverables

Step 6: Build and brand your freelancing site

Step 7: Pitch prospects (and revamp based on conversions)

Step 8: Ace your projects (and over deliver)

Step 9: Collect feedback (and improve)

Step 10: Audit your freelancing journey (based on your goals)

[Bonus #1] Scale your freelancing business

[Bonus #2] Start a side-hustle while freelancing

1. Have the right mindset
Today, anyone can become a freelancer. The gig economy has exploded with over 66% of global companies already hiring remotely. Freelancing has quickly become one of the most accessible online business models for people who dream of ditching the nine to five.

Many beginners (myself included) jump into freelancing as a means to earn some quick cash through short gigs:

But making real money from freelancing like the elite 20.9% of $100k/yr independent contractors is an entirely different ball game that requires the right mindset. Our bestselling course will get your head right.

I hate the word "gigs," and define it as shallow and low-value work that positions you as expendable and temporary help to crappy clients.

Remember: Don't be a freelancer that does gigs.

Instead, I do meaningful projects with clients over extended periods of time — at least one month.

You see, freelancers are in a unique position to dive deep into their client's business, even if they're working remotely — and this invaluable one-to-one intimate service is far more valuable than an agency could ever provide!

Leverage this personal commitment to build long-term relationships with every client you work with — and you won't have to aimlessly jump from one gig to another.

Now this transition is not going to happen overnight and will take some time and experience. But having the right mindset before you jump into freelancing is key to make decisions in the most effective way.
2. Define your freelancing goals
The journey to becoming a successful freelancer demands dedication, discipline, and patience.

Yes, you have a higher degree of control. But that means you have to do everything yourself. There's no one sending you a stable paycheck every two weeks. Instead, you'll have to pitch and land clients to make money.

Defining your freelancing goals helps you stay more productive and focused on KPIs that actually move the needle.

How to leverage?
Here are some ways you can implement a goal-setting approach into your freelancing lifestyle:

Breakdown your freelancing career into quarters of 3-months (like a business) and create a strategy to achieve short-term goals.
Define why you want to start freelancing; extra income, full-time goal, etc.) and set goals accordingly.
Use Excel sheets to keep track of your freelancing goals and block out time for regular reviews.
3. Pick your service and industry
Now that you're ready with a business mindset and goals, it's time to pick your freelancing niche.
Without a niche, you'll see yourself being everything to everyone, aka the 'generic freelancer.' I've been there and done everything from web development to content that left me feeling overwhelmed from being all over the place.

Today, I specialize in content writing for B2B businesses and only work with clients that meet these requirements. Yes, I do turn down projects, but this ultimately opens doors to top-dollar clients that want to work with experts.

How to leverage?
Freelancing, at its core, is just offering up a practical skill for which people are willing to pay money.

Some examples being:

Writing
Editing
Website development
Marketing
Photography
Cinematography
After you've picked a skill, you need to choose an industry and then tailor your services specifically to that industry.

Accountancy
Finance
Online business
Investmentment
Information technology
Next, you need to 'niche down' to a specific specialty (in terms of service and industry), and then stick to it.
Bottom line? Defining your niche will help you learn your target audience, gain more credibility, and charge much higher than a generalist.
4. Identify and document your ideal clients
Client research is an essential step to engineer a high-conversion pitch strategy (more on this next).

After all, how do you expect to sell something to someone without knowing what they want?

Don't strain yourself. You can't.

How to leverage?
To find your most ideal clients, you need to have empathy and dive deep into the core benefit of your service. You can start by asking yourself these questions:

What businesses would benefit the most from my services?
Do I really understand and know how these businesses work?
What are the critical problems of these businesses?
Do these businesses have a decent budget?
Who are the decision makes within these businesses?
How can I reach out to them on a personal level?
When you have the answers to these questions, you'll have a clear idea of how to market to your specific client base.

Pro Tip: Make a list of all your clients with contact details and basic CRM for future reference.


5. Define your deliverables
Once you have a clear idea of the type of freelancing clients you want to target and the problems they have, it's time to define your deliverables.

Defining deliverables enables you to have clarity over your pricing and services — and this ultimately helps with proposals and negotiations. Here's a proposal template that we recommend.

How to leverage?
Most (good) clients don't mind paying a premium, but first, they need to have a clear understanding of what they're paying for:

Create detailed service offerings with a complete breakdown of the services.
Explain how you work to help potential clients understand your value proposition.
Position your deliverables as a solution and not a service.
Set strategic prices for your services based on the market (not your intuition).
6. Build a high-quality freelancing site
Once you've decided what service and clients you want to sell to, you'll have all the information you need to build a freelance website.

In my opinion, every freelancer should have a website as there are just so many benefits (think: better authority, more control, etc.).

Here's just one of the many instances where my site has helped me land more clients —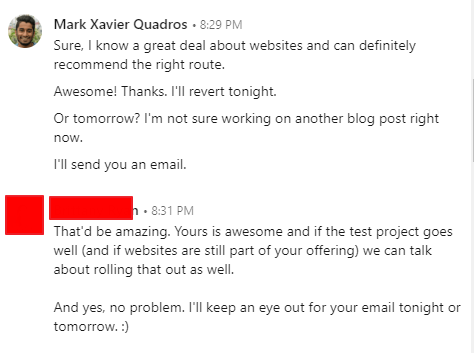 How to leverage?
The key to building a good freelance website is not to overthink it and keep things simple.
Here are four steps to help you get started on the right foot:

Step 1: Pick a domain name
A domain name is the name of your site. You can use your name (more credibility), or you can get a little creative (like my domain "Dhe Real Mark").

My recommendation: NameCheap

NameCheap is a top-notch domain company that offers its services at affordable rates. In fact, I use NameCheap for all my websites.

Step 2: Get a reliable host
Hosting is a server that hosts your website on the internet. It's essential to get a reliable host as hosting is responsible for keeping your site live and accessible to clients.

My recommendation: SiteGround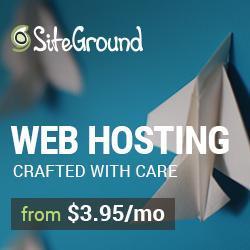 SiteGround is the #1 rated website hosting that offers the top-notch server resources, affordable pricing, and excellent customer support.
I've used SiteGround for over a year and have nothing but great things to say about them.

On a similar note, I recommend reading this in-depth SiteGround review for more information.

Step 3: Get a simple Simple WordPress theme
It's easy to waste countless hours creating the perfect website design. Instead, keep things clean and simple and get your site up as fast as possible.

My recommendation: GeneratePress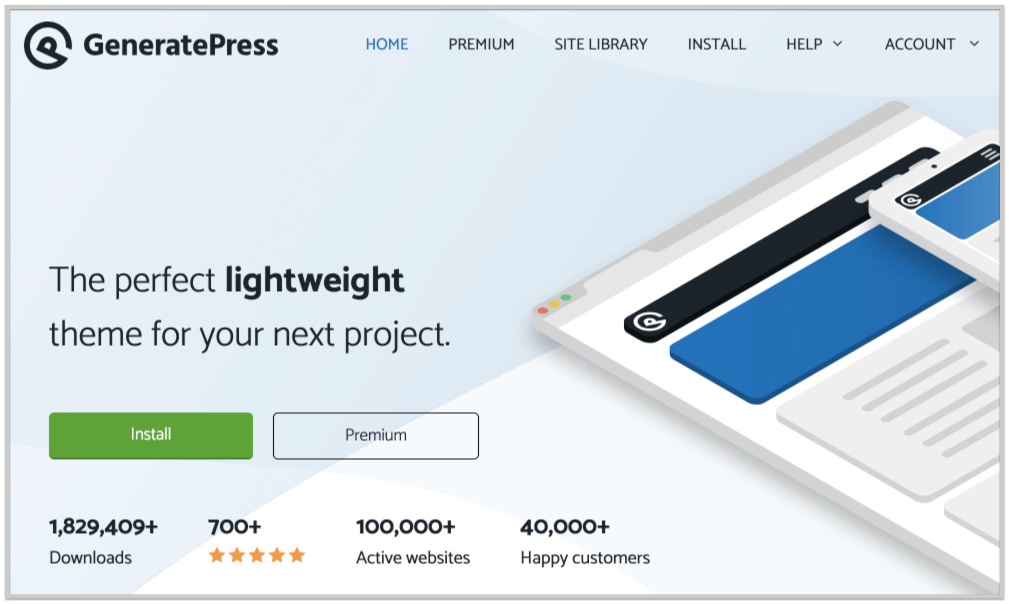 GeneratePress is a simple WordPress theme that's perfect for fast and easy setup. I personally use this theme and particularly love it for its performance.
To give you a better idea, here's a speed report of my site:

Step 4: Ideate the right branding
My freelancing website works well because it's optimized to attract my most ideal clients (this is why it's crucial to know your clients).

Again, don't spend hours contemplating the perfect design. Instead, keep it real and focus on positioning around your target client base.

Pro Tip: If you're not sure where to start, look for inspiration from other relevant freelance websites.

For example, I clearly define what I offer, and to whom, within the first 3-4 seconds of landing on my website: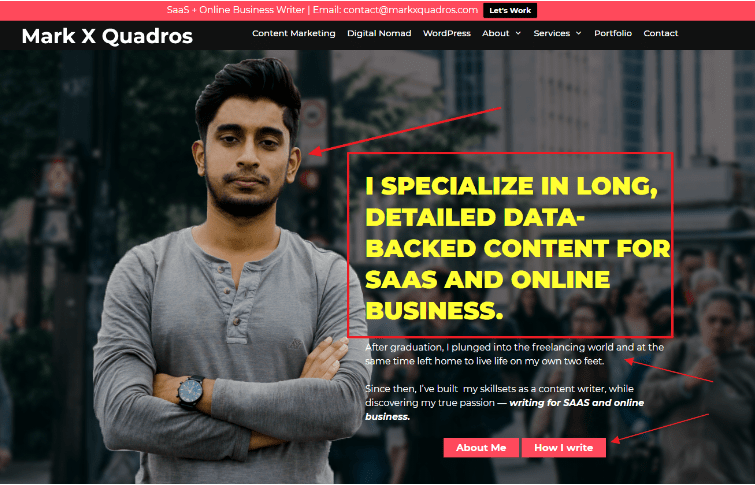 Why? Because you don't want to make potential clients spend too much energy trying to figure out what you do.

For more information, I recommend reading my article on how to write killer landing page copy.

[Bonus] Five Essential pages of a good freelance website:

You can design your website in any way you want, but make sure you have these five pages:

Home page: A brief landing page to sell your service.
Service page: A detailed page that defines your service.
Testimonials: References/testimonials/social proof.
Portfolio Page: A page that depicts the work you've done.
Contact Page: A simple page with contact details.
Note: It's a good idea to create social profiles on platforms like LinkedIn to build more authority.
If you are ready to set up your first website, check out our definitive guide to starting a blog.
7. Pitch prospects (and revamp based on conversions)
After the freelance website, you should have everything to start pitching clients.

But before I dive further into pitching, I want you to know one hard cold truth; You will get rejected.

Pitching is pure sales, and just like in sales — you'll have to get used to high rejection rates. For this reason, it's essential to spend some time researching your most ideal clients to create a high conversion pitch.
How to leverage?
The key to successful pitching is communication. Clients don't really care about your skills. They care most about their problem and whether they can trust you to get the job done.
Here are a few basics of crafting an effective pitch:
Research prospects and identify their problems.
Directly position your pitch around their most urgent problem.
Anticipate common oppositions that may come up. For example, why they should pay you a premium over a cheaper alternative.
Use relevant work samples to demonstrate expertise.
Find out where your ideal clients are hanging out and be a part of their conversations.
Pro tip: If you're not good at writing, use a tool like Grammarly to write A-level pitches.

Next, take your 'pitching game' a level up and test out different strategies based on conversions.

With pitching, you never know what strategy works best until you implement it. For example, test out pitching clients on Reddit and if that doesn't work pivot to another plan.

In my case, I was unsuccessful in getting clients locally. So I changed my strategy to Reddit/Facebook, which turned out to be a huge success: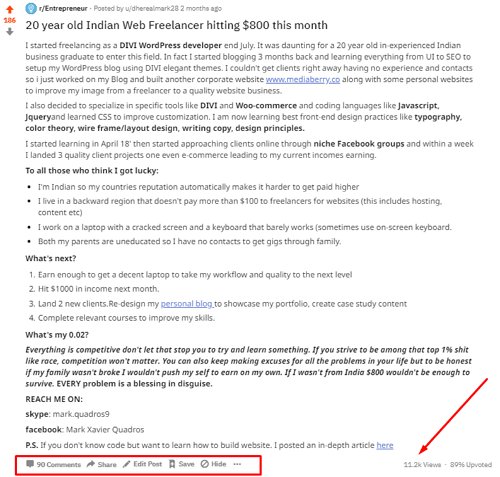 8. Ace your projects (and over deliver)
That single post got me clients for the next few months.
With Freelancing, pitching and landing clients is a job in itself.

So when you do finally land that client, you get this feeling of accomplishment before you complete the gig — and this leads to procrastination and slacking off. Here's how to beat procrastination.

Remember: Don't do this.

Instead, set a goal to ace your project and over-deliver. After all, it's in your best interest to exceed your clients' expectations as this will result in more projects and referrals.

How to leverage?
Now every freelancing niche is different, but there are a few best practices you can follow to ace your projects:

Don't be afraid to ask questions. Your client will appreciate it as it shows your dedication.
Follow experts in your niche and learn their process.
Set a realistic deadline and never miss it!
If you have a day job, block out time for freelancing. Don't mix it up.
9. Collect feedback (and improve)
Collecting feedback is a step most freelancers rarely do. But this one step is essential to improve your skills and ultimately helps you build long-term relationships with your clients.
Do this, and your client will remember you as their trusted ally as opposed to some freelancer looking for a one-off gig.
How to leverage?
After every project, send an email asking the client to share their genuine opinion about your work.
Ask for testimonials to use on your freelancing site.
Create a simple, handy feedback form to make it easier for clients to give you detailed feedback.
Share ideas on what you can do next.
Here's how to write a testimonial.
10. Audit your freelancing journey (based on your goals)
Freelancing is a challenging career, and this can make it easy to go off track and lose sight of where you really want to go.

Auditing your freelancing journey is essential to realign with your goals, which will most likely change with experience. This will help you stay on track and be more motivated.

How to leverage?
After every quarter, I go back to my goal sheet and track my current progress.

If there's something I want to change, I realign and set new goals.
If I haven't met specific goals, I figure out why and then focus more on trying to achieve them this time.
Remember, we're all human, so it's fine not to meet your goals. The important part is to be conscious of your goals and continuously work towards achieving them.
[Bonus #1] Scale your freelancing business
With experience, you will reach a point where you'll start getting more work than you can handle.

In this situation, many freelancers drop clients and focus on just a few projects — and there's nothing wrong with that. But this limits your income and eventually, you'll find yourself hitting a plateau.

This is where scaling your freelancing business comes in and helps you take on more work without working longer hours.

But before scaling your freelance business, you need to build the following:

An authoritative brand (to make outsourcing profitable)
A network of clients (for a regular flow of projects)
Firm understanding of the process (for efficient delegation)
How to leverage?
Scaling a freelancing business needs a firm understanding of the entrepreneurial mindset as you'll need to think less like a freelancer and more like a business owner/manager.

Here are a few things I've done to scale my freelancing business:

Learn how to start a podcast and build a rabid audience.
Maintain good communication with the freelancers you hire and train them for efficiency.
Develop quality-assurance processes (think: checklists) to ensure your freelancers deliver high-quality work.
Don't outsource complex/high-budget projects that necessitate higher expertise.
Develop a system to keep track of progress.
[Bonus #2] Start a side-hustle while freelancing
After you've scaled/automated your freelance business, you'll now have more time for higher revenue generating tasks like:

Starting a small agency (if you want to work with clients)
Side-hustle related to your expertise (like me)
Writing and selling business books
In my case, I leveraged my content marketing expertise to build a blog, monetized with affiliate marketing, that's on track to exponentially grow in the next few months.
My point is freelancing isn't the end goal. Instead, you can use it as a stepping stone into entrepreneurship.
There are all kinds of online business ideas that you can use to make money.
You could start a monetized blog, sell online courses, or listen to James Altucher tell you how to get filthy rich.
I recommend checking out this article on side hustle ideas to give you a head start in the right direction.
Wrapping up on how to become a freelancer
So what's my last piece of advice? What's that final nugget you need to become a successful freelancer?

The simple answer; there is no secret formula, and there is no one path.

Instead, it's the ability to learn from your mistakes and realign that will help you become a successful freelancer.

So my advice is; stop trying to 'find your purpose' and try out different things till you find something that interests you.

I chose Freelancing because it supports my goal of being independent.

Yes, I still have a long way to go, but I'm happy with where I've gotten and will continue to work towards my goals.