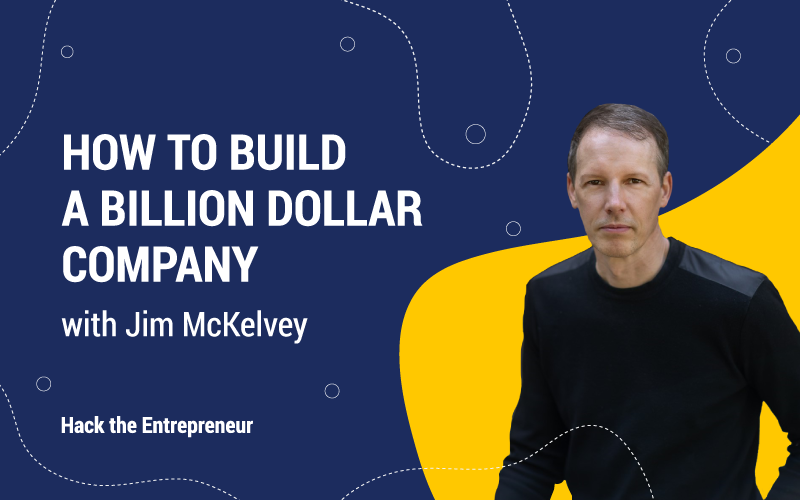 My guest today is Jim McKelvey, a business person turned glassblower turned entrepreneur turned billionaire — who has become a philanthropist, investor, and now an author.
He's started a handful of companies, many that are still in business decades later. As he will tell you, every company he has started has also removed him from his leadership role. Although this doesn't sound like something to be proud of, Jim will tell you that this is one of the reasons for his success.
After spending the better part of three decades innovating and building businesses, we mostly know him as the co-founder and designer of Square — those little white squares we see plugged into phones and used to take credit card payments.
Back in 2008, Jim, along with his soon-to-be Square co-founder Jack Dorsey, having just been removed as the CEO of Twitter decided to spend ten days coming up with a new business to start, when the idea for Square appeared.
After an intense and tumultuous few years, with Jim once again being removed from leadership, Square had succeeded in innovating in an archaic industry. And in the meantime, Jim had become a billionaire entrepreneur.
Jim spent the next ten years working to understand what it was that made Square, along with other uber-successful companies, a success. During his analysis, he discovered what he now calls the Innovation Stack, which is also the title of his brand new book.
Now, let's hack…
Jim McKelvey
Highlights from the episode
[04:13]: Jim discusses the changing meanings of the word "entrepreneur." For his book, he uses the more archaic definition: someone who does something that hasn't been done before. (As opposed to merely someone who starts any business.) Doing something genuinely new and innovative brings unique challenges and different rules of the game.
[11:54]: The first draft of Jim's book was originally partly a graphic novel. After two and a half years writing it, he spent about six months removing the cartoon sections, because his publisher needed his book to work correctly both on e-readers, and as an audiobook. So, he decided to offer free copies of the comic to people who bought the book.
[16:46]: "Being pissed is a great reason to start a company." Jim was upset over having lost a $2,500 sale because he couldn't take an American Express credit card. He called up his friend and colleague Jack, and they started brainstorming ideas for addressing this particular pain point. Up to that point, businesses generally needed around $10,000 a year in sales to justify the cost of a credit card reader.
Resources and links from the interview
Show sponsor
Freshbooks: Get a free 30-day trial of FreshBooks right now, no credit card required. Go to Freshbooks.com/HACK and enter HACK THE ENTREPRENEUR in the "How did you hear about us?" section.
Dig this episode? Wait until you hear these…