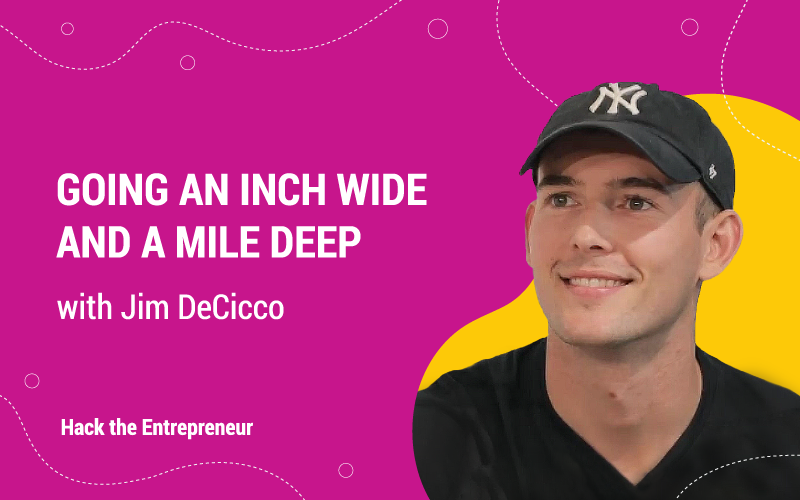 Jim DeCicco is an ambitious, intense, and determined entrepreneur. After college in 2015, he worked in finance for a few month before teaming up with his two brothers to create the world's first Super Coffee.
Today he is the CEO at Kitu Life Inc., makers of Super Coffee and Super Creamer.
Since 2015, Jim and his brothers have raised $18 million in venture capital. They've pitched on ABC's Shark Tank, and have been featured in the 2019 Class of Forbes' 30 Under 30.
This is a great conversation about the overlap between professional and personal life, why innovation needs to be complimentary to your offerings, and how Jim and his brothers got their start by being scrappy and making sales.
Now, let's hack…
Jim DeCicco
Highlights from the interview
[3:19]: Jim explains that a key contributor to his success has been his company's lack of a rigid hierarchy. He and his brother, who helped found the company, have a team of 75 people, but everyone is considered more or less equal. Everyone sees each other as teammates.
[7:49]: "I think evolution is key, right? Because there's no playbook here. There's no right way to build a business… the entire landscape of the industry is changing." What worked a few years ago may not necessarily work today, so Jim and his team are always trying out new things and looking for new solutions.
[18:02]: The company got its first customers by showing up to a Whole Foods grocery store one day to buy packaged beverages. Then they emptied the packages, filled them with their own product, and labeled them. They sold the batch to the same Whole Foods. Getting in with this store helped get them access to a real culinary kitchen where they could make more coffee drinks. Eventually, their product became the best selling coffee in the store.
Resources and links from the interview
Show sponsor
FreshBooks: Get a free 30-day trial of FreshBooks right now, no credit card required.
Go to Freshbooks.com/HACK and enter HACK THE ENTREPRENEUR in the "how did you hear about us" section.
Dig this episode? Wait until you hear these…