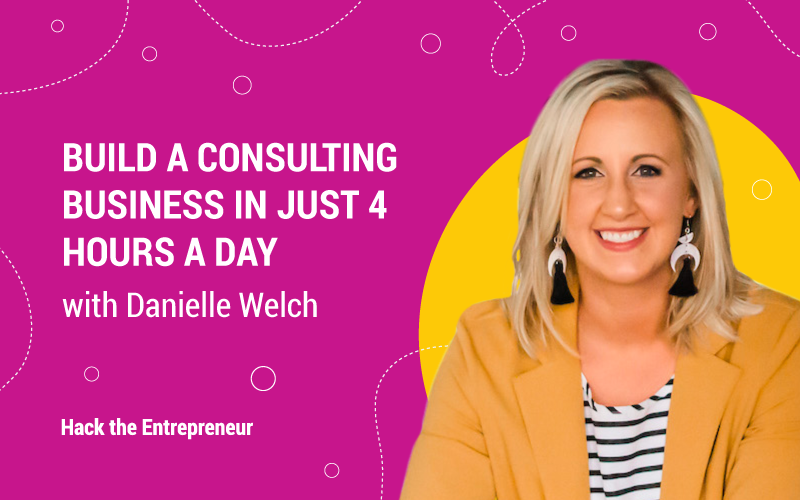 A couple of years ago, Danielle Welch decided that she was through working for digital agencies that didn't have their clients' best interests in mind. But she had developed some serious marketing skills and loved helping clients succeed, so she decided to go out on her own.
For the past two years, Danielle has been working as an independent consultant and social media educator. She has done all of this while also taking care of her children — which gives her only three to four hours a day to work on the business.
In this episode, we discuss:
How to prioritize your time to maximize your results
Why marketing yourself can be the hardest marketing to do well
Why social media is not about ROI
Now, let's hack…
Danielle Welch.
Highlights from the interview
[03:39]: Danielle talks about the importance of time management and prioritizing her schedule, as someone who wears many different hats. She gets a lot more done when she plans out her days in advance, choosing where she needs to focus the most.
[12:22]: Danielle recently hired a business coach to help her revitalize her entrepreneurial mindset, with great results. She'd always had drive and ambition, but wasn't always sure how to channel it. She feels that it's important to surround yourself with people who believe in you and support you, but who also hold you accountable.
[28:34]: Danielle explains why she feels that social media content shouldn't be an ROI-based undertaking. Social media content — organic, as opposed to paid ads — is all about building brand awareness, which is difficult to quantify.
Resources and links from the episode
Show sponsor
Ahrefs: Want to learn more about competitive analysis? Check out the Ahrefs blog or YouTube channel for step-by-step SEO tutorials. Plus, they have a 7-day trial for only $7.
Head over to Ahrefs.com to sign up now.
Dig this episode? Wait until you hear these…