Hack the Entrepreneur: The Book
Hi, I'm Jon Nastor. I have been starting online businesses and helping entrepreneurs stop procrastinating for the past 13 years.
My entrepreneurial journey began with multiple businesses offline, but in 2011 I discovered the 'how to make money online' and decided that I would never work offline again.
By 2012, I was running a successful software company from my laptop, traveling the world with my wife and daughter, and playing drums in a punk rock band.
I had the freedom to work when and where I wanted and had achieved the 4 Hour Work Week, but I had the desire to do something meaningful.
Up until now, I had spent a large portion of my life picking the brains of entrepreneurs that had walked the entrepreneurial path before me and I wanted to share what I had learned -- entrepreneurs are not born, they are created by harnessing the entrepreneurial mindset, hard work, and a desire to do meaningful work. And maybe eventually quit your job to start a business.
This entrepreneurial mindset is one of decisiveness, taking ideas and executing on them, and learning how to stop procrastinating and do work that matters.
455+ interviews and over 3.8 million downloads later and I want to give you the best hacks. That's exactly what the Hack the Entrepreneur book will give you.
I love how the internet has changed mine and my family's life and I cannot wait to help you start, build, and grow your very own online business. From affiliate marketing to side hustle ideas, writing sales copy to email marketing, we've got you covered.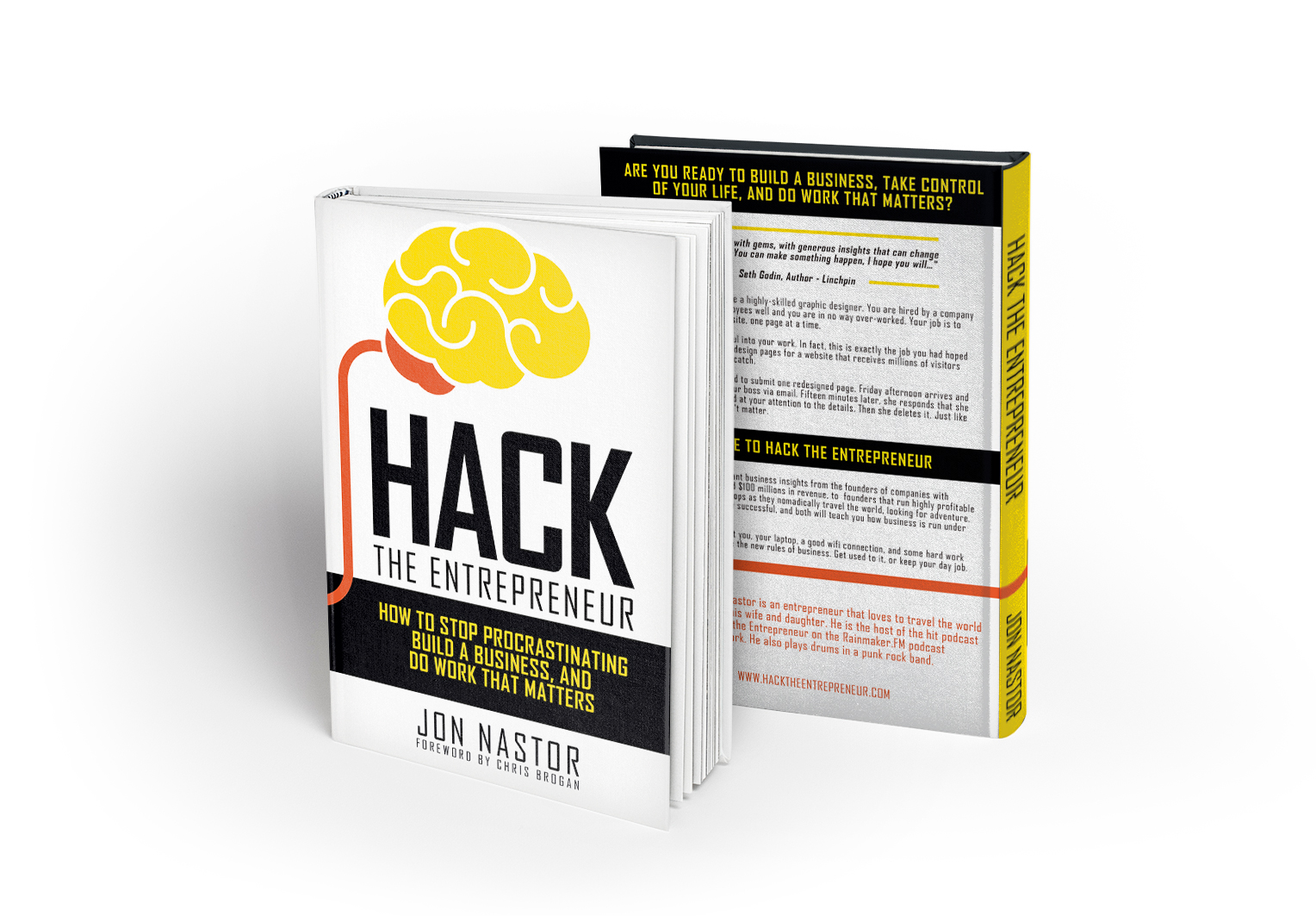 Who should read this book.
Are you stuck and don't know what to do next?
In Hack the Entrepreneur: The Book, Jonny will be your personal mastermind, coach, and mentor as he gives you the guidance and the kick in the ass you need today.
How to stop procrastinating
This book is your personal mastermind, coach, and mentor to give you the guidance and kick in the ass you need to stop procrastinating today.
It will teach you how to find online business ideas and execute on them fast.
Do you want to control your destiny?
If you want to design a lifestyle that puts you in control of your time and income, this book is for you.
Want the freedom to travel?
If the idea of working on your business while traveling the world makes you smile -- then digital entrepreneurship and Hack the Entrepreneur is for you.
Do you want to do work that matters?
If you want to work on projects that make a real impact and have meaning to you and others, this book will let you discover your true value.
What other entrepreneurs are saying:
Jonny tells it like it is. Yet despite his lack of sugarcoating, he has a punk rock warmth that makes you feel like your best friend is giving you urgent and important advice, with tough love. -- Andres Zuleta

---

I don't follow many newsletters anymore, but Jonny's writing is always so on point and such a good pick me up that it's one of my must-reads every time it flows through my inbox. -- Karol Gadja

---

Jonny's writing is on point for kicking entrepreneur a**. He's been there and he's done that and it shows up in the form of your best friend trying to gently kick you into gear. Doubt? Done. Anxiety? History. Success? The only option with his words of wisdom. -- Tania Dakka

---

Whenever I get off track or find myself over thinking something in my business, I just listen to one of Jonny's shows. -- Nick Davis

---

The privilege of hosting a weekly show with Jonny has made me a better showrunner, and his book will make you, me, and everyone who reads it a better entrepreneur. -- Jerod Morris

---
Here's what's inside:
1. Getting Started
There are similar obstacles we all face or have faced when getting started in business. Once we've broken through and started, we all wish we could've started sooner. Now you can.
2. Mindset
There is an endless amount of tactics and strategies you can use to start and grow your business, but without the proper business mindset you will never achieve the level of success you deserve. This section will help you form that mindset.
3. Ideas
If right now you are struggling to come up with a great side hustle idea, don't worry: this section has you covered.
4. Being Wrong
As entrepreneurs, one of our greatest struggles is the fear of being wrong, making mistakes, and failing. This section is laid out to walk you through how to be wrong in your business, as well as how to use your mistakes to learn, grow, and catapult yourself to new heights.
5. Growth
Once you have mastered the initial four sections, you will be ready to find and enjoy true growth. This is where you, your ideas, and your business will grow and scale way beyond you. It takes goal setting, and this book will show you how.
Do you want to learn how to be an entrepreneur? Great, then this book is for you. And the best part is that it's absolutely free right now.
Grab your copy now.