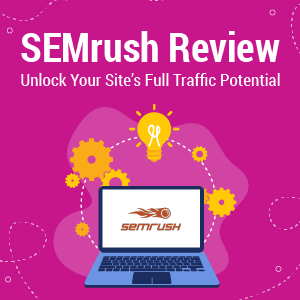 You've heard it mentioned dozens of times but as good as it may be … is SEMrush worth it?
SEMrush has created a powerful toolset designed to improve any business's marketing efforts – whether that is SEO, PPC, content marketing, building backlinks, or performing keyword research.
We've been using SEMrush for our own content marketing since early 2018, and our SEO client sites since July 2018.
For this SEMrush review, I will be approaching SEMrush from the perspective of a site owner and online entrepreneur, rather than an SEO agency.
My goal is to give you the complete guided SEMRush review – no fluff and no filler. If I don't use one of the features, I'll tell you exactly why I don't use it and point you towards the tools I use instead.
SEMrush Review
Competitive Research -

9/10

Traffic Analytics -

8/10

On-Page SEO Optimization -

9/10

Backlink Audit -

6.5/10

Keyword Research -

9.5/10

Keyword Position Tracking -

10/10

Content Marketing -

8/10

Technical Website Audits -

9/10

Social Media -

7/10

Ease of Use -

9/10
Summary
SEMrush is a powerful piece of software designed to improve any business's marketing efforts – whether that is SEO, PPC, content marketing, building backlinks, or performing keyword research.
We've been using SEMrush for our own content marketing since early 2018, and our client's sites since July 2018. We fully endorse SEMrush as the best SEO software available online.
If you puchase a StudioPress theme using my affiliate link, I will get paid a small commission — at no extra cost to you. I genuinely appreciate your support.
I try to make my reviews unbiased and backed by experience and evidence to help you make the right choice.
Let's jump into it.
Our Results Using SEMrush (528% Increase in Traffic!)
In early 2018, we decided to focus 100% of our efforts on SEO and using content marketing to drive website traffic.
Prior to this, we had been publishing podcast episodes and writing articles that we felt inspired to write — but with no focus on how anyone would find those articles. Maybe you can relate?
Here's what happened when we began focusing on SEO and writing content based on our SEMrush insights:

On July 18, 2018, we published the first blog post with our new SEO-focused and process-driven research and publishing system.
As you can see above, we had decent, yet incremental traffic improvements for five months. Then in early January 2019, our efforts began to pay off in aces with a 528% INCREASE TRAFFIC in JUST 7 months!
Enough about us, let's see if SEMrush is right for your business.
SEMrush Review: Features, Benefits, and Pricing
There are a ton of features and some of them are more valuable to help you get on the first page of Google than others.

SEMrush is not just an SEO tool — it is an all-in-one digital marketing suite of tools. This means that any SEMrush review worth reading is going to be long and in-depth, such as this one.
In the table of contents below, you can click on any section that interests you or simply scroll down and read the review from top to bottom.
Our goal is to make it very clear what we use internally and what we don't use, so you don't end up down a SEMrush rabbit hole.
SEMrush is an incredibly valuable tool, but it can also cause analysis paralysis due to the sheer volume of data it provides.
Competitive Research
This is where it all begins. It doesn't matter if you are selling consulting services, digital products, or selling courses online, you must aim to fill a gap in the marketplace.
And the only way to do this is through intelligent competitive research. SEMrush makes this simple to do.
Domain Overview
SEMrush's Domain Overview tool is the starting point of every other tool and aspect of SEMrush. So the report generated links off to all the other major tools to enable you to further distill your competitive research.
Go to Domain Analytics, enter in your competitors URL and click search.

The data provided by this SEMrush tool is worth the price of admission alone and is the first step in understanding your competitors, finding low-hanging fruit opportunities, plus seeing exactly how and where they are getting their traffic from.

Use SEMrush's Organic Research tool to uncover your competitor's best pages and keywords by organic traffic, and then target them yourself.
As an example, here's the information you receive when you type Buzzfeed into the search bar.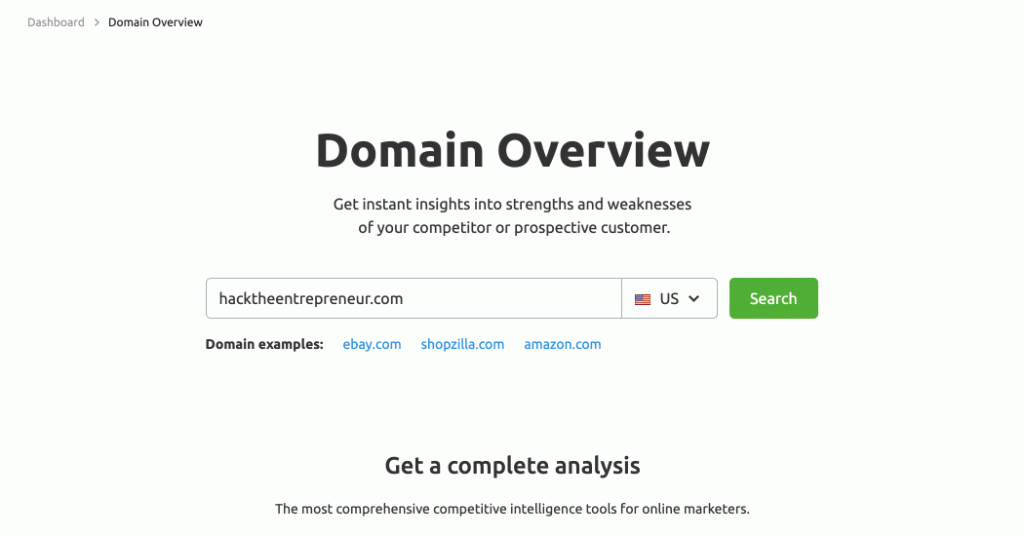 Remember, building a successful business online isn't about reinventing the wheel, it's about uncovering what already works and finding a demand gap that you can fill.
Traffic Analytics
Now that you've seen the Domain Analytics Tool and learned about how you can use it to dive deep into your competitor's online presence, let's move onto the next new tool in your competitive research arsenal is Traffic Analytics.
Traffic Analytics is a competitive research tool that provides estimates of any website's desktop and mobile traffic.
In short, it can help you spot your rivals' strength and weaknesses, evaluate a new market or niche, and even build a successful media buying strategy.
The insights found in Traffic Analytics makes it one of the most powerful tools on SEMrush for market researchers, marketing managers, business development teams, and sales teams.
Try it right now, type any website into this form…
Pros: Competitive Analysis
Traffic Sources Report: uncover where your competitors are getting their traffic from – search engines, social media, paid ads, or referrals – with detailed breakdowns of each.
Geographic Traffic Data: learn where your competitor's traffic is coming from geographically.
Backlink Analysis: see all the websites backlinking to your competitor and use this information to plan your own backlink outreach.
Business and Partnership Insights: seeing is believing and with this report, you can quickly gain insights into potential JV partnership opportunities in your marketplace.
Brilliantly Simple Reporting: The speed and simplicity of this tool are breathtaking and I 100% recommend it to all small businesses and online entrepreneurs.
Cons: Competitive Analysis
Account Limitations: Pro account doesn't provide you historical data
Analysis Paralysis: Beginners could get overwhelmed with the sheer amount of data.
Get Ahead of Your Competition.
Uncover Exactly Where Your Competitors Get Their Traffic and Backlinks.
With all of that said, let's move onto the next part of our SEMrush review.
SEO: Search Engine Optimization
Plain and simple, this is what SEMrush is known for and does best – search engine optimization – and it's worthy of this praise because it does several things better than any other tool on the market.
For any business that makes money online — directly or indirectly — SEO software is an investment that can pay for itself several times over. And SEMRush is one of the best products out there.
On-Page SEO
On-page SEO is the practice of optimizing your content and HTML source code in order to clearly define what your article or page is about. This includes page titles, meta descriptions, images keywords, internal linking structure, and more.
Although we need to write for humans, writing great content alone won't do anything to get your organic traffic. In order to get your piece of search engine traffic, you need to optimize every existing page and post on your site — including every new page you publish.
On-Page SEO Checker
Google's ranking factors and algorithm evolves on a daily basis, and keeping up with all of these changes can be mind-numbing time-consuming.
With SEMrush's On-Page SEO Checker, you can easily check to see if your website and content is fully optimized.
By simply adding your URL, you will get a complete understanding of the relevancy and quality of your body text, page titles, header tags, images alt text, and meta description.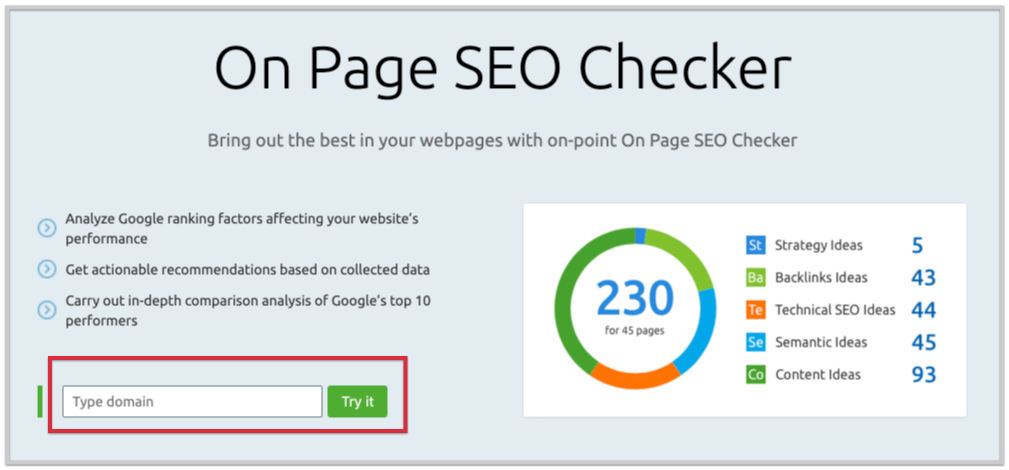 The downside of most SEO optimization tools out there is it is tough to know what to do and where to start.
SEMrush's On-Page SEO Checker stands out because it gives you a complete actionable list of things you can do to improve your rankings for specific pages of your website.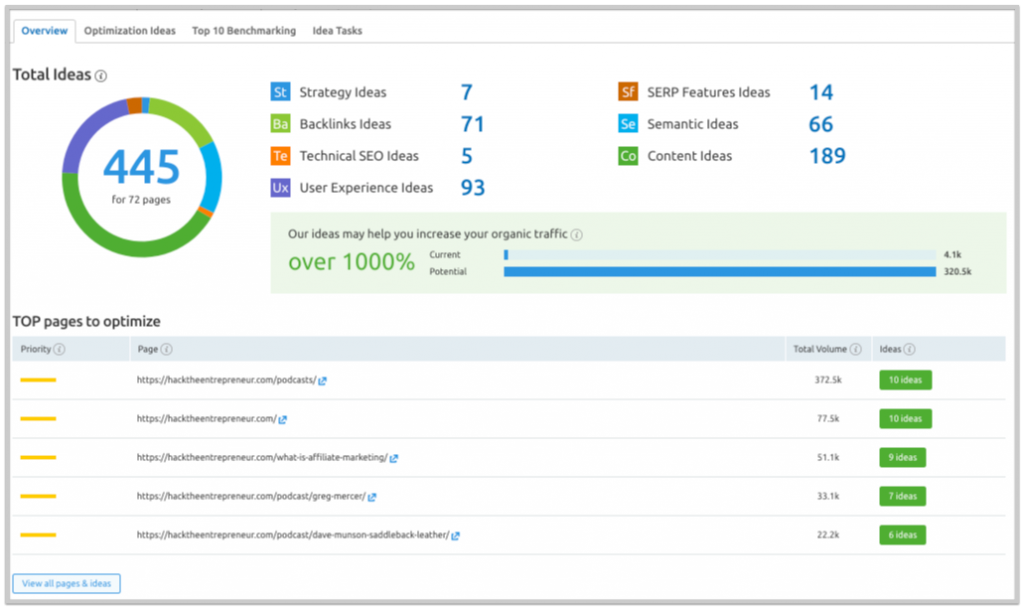 As you can see above, the results can be somewhat overwhelming in their volume of optimization ideas but it is also incredibly helpful and actionable. You can look at it positively, and know that you will never run out of on-page updates to make.
The best part of this is that SEMrush prioritizes your pages for you, so click on the first page on your list and get to work!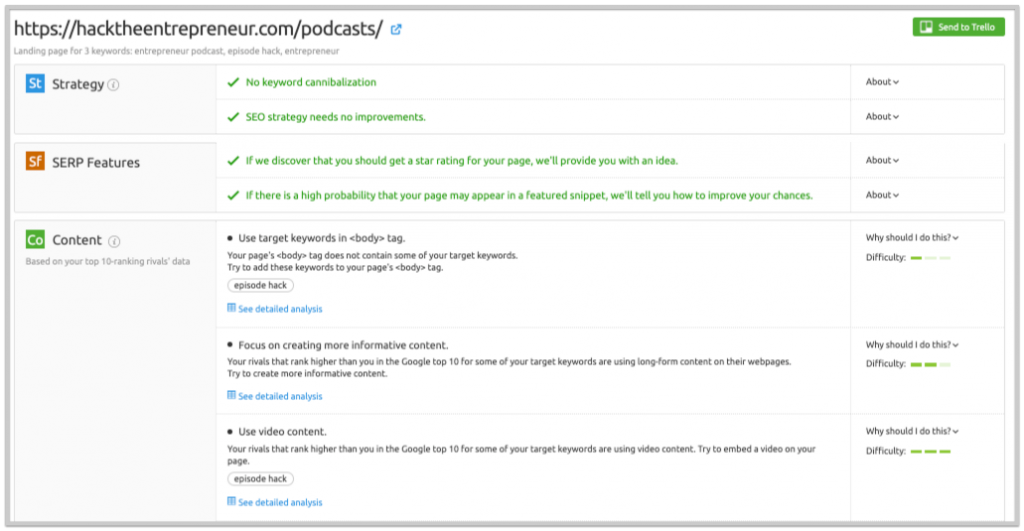 Technical Site Audits
This is what convinced me to initially get a SEMrush membership — and eventually, to do this SEMRush review — and it's been invaluable for the growth of Hack the Entrepreneur as well as many of our client's sites.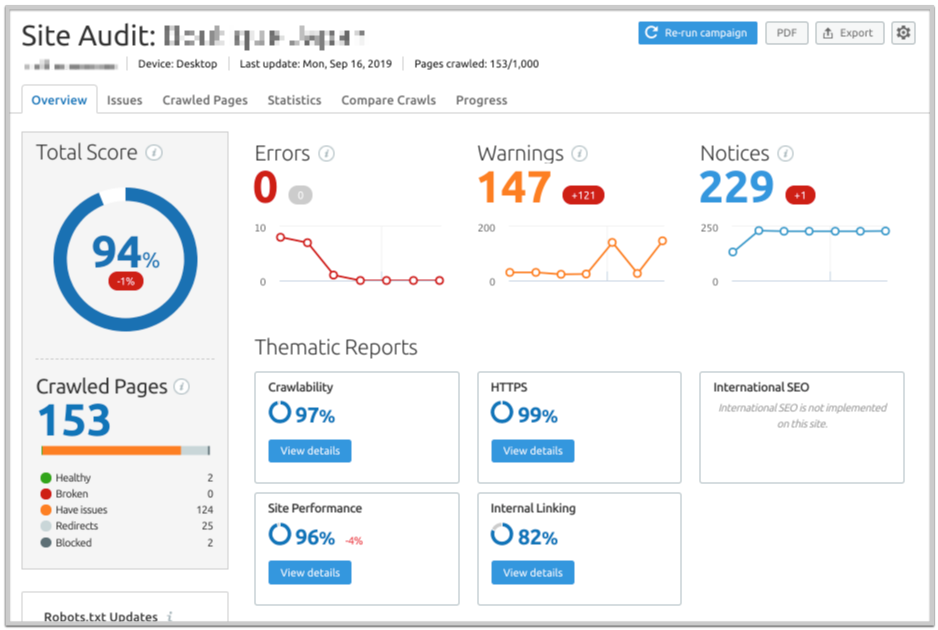 Site audits are used to identify a wide range of potential website issues – issues that are potentially holding back your rankings. It determines whether your website is fully optimized for search engine traffic, has any broken files or links, loads quickly, is user-friendly and has top-notch content.
Here's what a SEMrush Site Audit will do:
Crawl your entire website for any technical problems
Identify both on-page and off-page SEO issues
Check for broken files and internal or external links
Uncover weak or duplicate content you may have
Find all page errors, page load speed issues, and crawl issues
Generate a beautiful PDF of problems to fix
Backlink Audits
SEMrush's Backlinks Audit tool combines the rank, authority, and geographic location of all the backlinks pointing to your website. These links are another one of the 200+ ranking signals Google uses to rank your content's relevancy, authority, and expertise.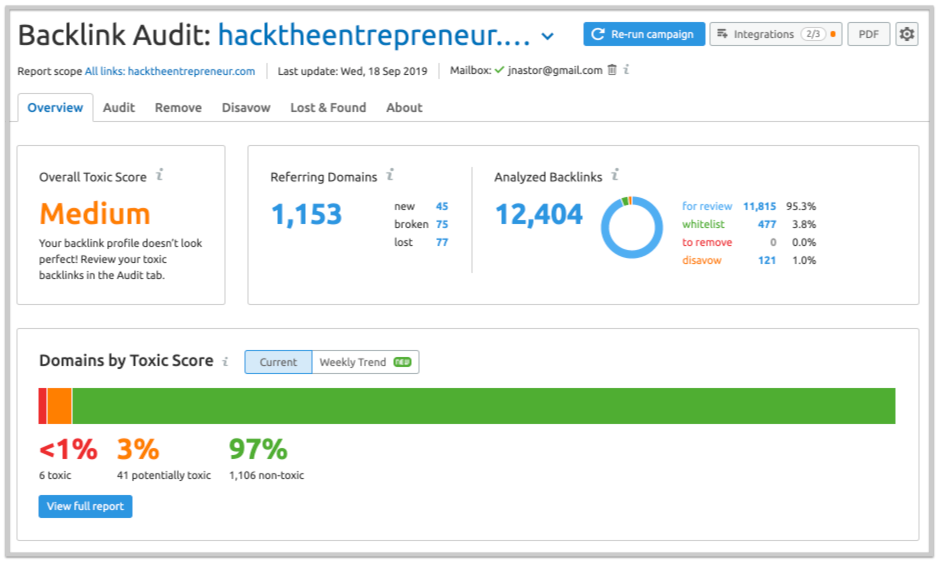 With this tool, you can check incoming links from any domain. At the same time, you will learn detailed information about the link – domain authority, anchor text, and toxicity of the domain itself.
Now just before we wrap up this section of our SEMrush review of their SEO tools, let's go over the pro and the cons of these tools.
Pros: Search Engine Optimization
Actionable On-Page Optimization: The ultimate on-page analysis tool for beginners to SEO experts. Actionable ideas to optimize your pages.
Professional-Grade Site Audits: Set up an automated weekly site audit with the click of a button. Uncover every error and warning on your website.
Simple Reporting: The speed and simplicity of this tool are breathtaking and I 100% recommend it to all small businesses and online entrepreneurs.
Cons: Search Engine Optimization
Account Limitations: Pro account doesn't provide you historical data
Analysis Paralysis: Beginners could get overwhelmed with the sheer amount of data.
SEO Just Got Easy (and Profitable) with SEMrush
Start Your Exclusive 30-Day FREE Trial Today
Keyword Research
SEMrush's Keyword Research Tools enable you to analyze the possibility of ranking for any given keyword.
Keyword research is much an art as it is a science and SEMrush will provide you with all of the data you need to make informed decisions and plan SEO experiments.
Each keyword you search for on SEMrush will have a Keyword Difficulty number alongside the relevant data so you can make the decision whether it's worth the effort to target.
By using this tool you can find keywords with a low competition or at least understand in advance when a keyword will be difficult to rank.
Ultimate Keyword Research Checklist
Whether you do SEO, PPC, or both, you're going to need keyword research.
Without research, a campaign is basically just guesswork. But with a calculated approach, you can discover your potential customers' top questions, preferences, and pain points.
SEMrush analyzes over a billion keywords in our US database alone, making it the perfect place to start your keyword research.
Keyword Overview Report
The Keyword Overview is SEMrush's top-level report, and it can be generated for any of the keywords in the SEMrush database. After entering your word or phrase in the search bar you'll see the keyword's volume, number of results, CPC, Competition level, trend, and more.
Instant top-level examination of any keyword of the 14.9 BILLION KEYWORDS in SEMrush's keyword database.
Just like the other top-level reports, the Keyword Overview Report is your jumping-off point into deeper keyword research reports and insights.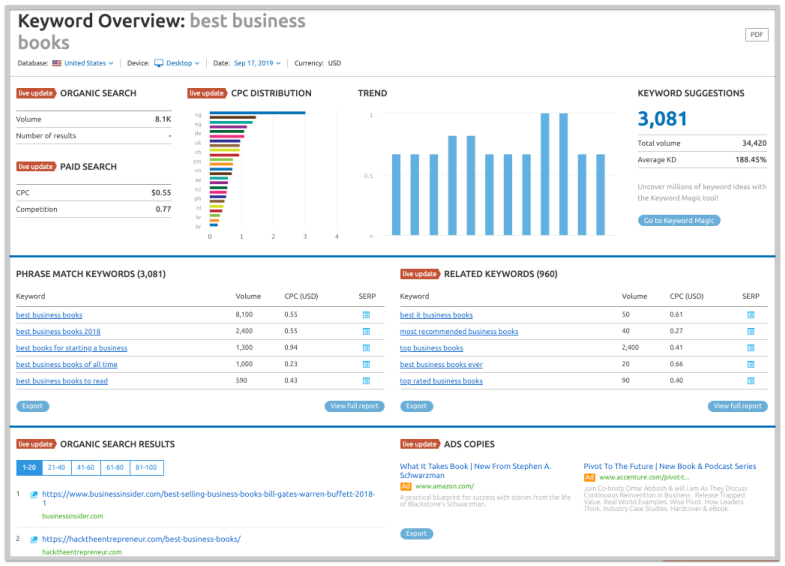 Keywords are the intersection of your content and your potential customers.
But before you can bring in any traffic from search, you need to decide which search terms are worth targeting. This is where keyword research becomes so important.
The Keyword Overview report is the easiest place to start your keyword research and grow familiar with SEMrush's reports and metrics.
The next tool you'll want to have in your keyword research arsenal is their Keyword Magic Tool. So let's explore this tool next in our SEMrush review.
Keyword Magic Tool
SEMrush's Keyword Magic Tool is the most powerful keyword research tool I have ever used. It gives you direct access to their incredible database of 14.9 billion keywords.
All you have to do is input a single word or phrase into the search bar to get a complete table with related search terms broken down into topic-specific subgroups — including the broad, exact, phrase, and related search ideas.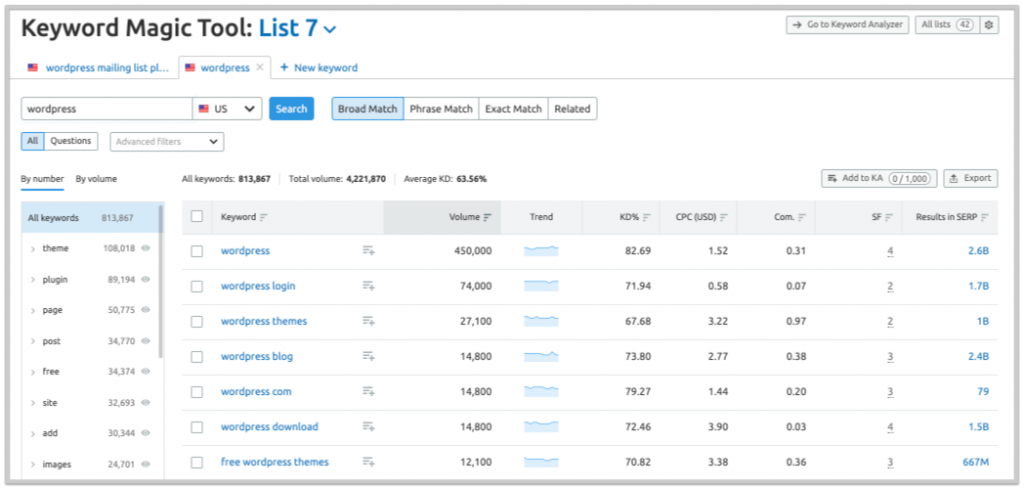 The Keyword Magic Tool is best-in-class for exploring niches and topics, finding related long-tail keywords, and building a master list of keywords that can be the basis for your entire content marketing strategy.
Keyword Difficulty Tool
This tool shows you how hard it would be to rank a new article or page by outranking the websites currently on the first two pages of Google.
This is extremely helpful in the keyword research process. When you have this information, you can determine which target keywords are realistic for you to target (and rank) and which ones are a waste of your time and resources.
Keyword Position Tracking
There's no point in doing any of this SEO optimization and content creation unless you are going to track your progress. And really, this is the most fun (and most addicting) part of the entire process.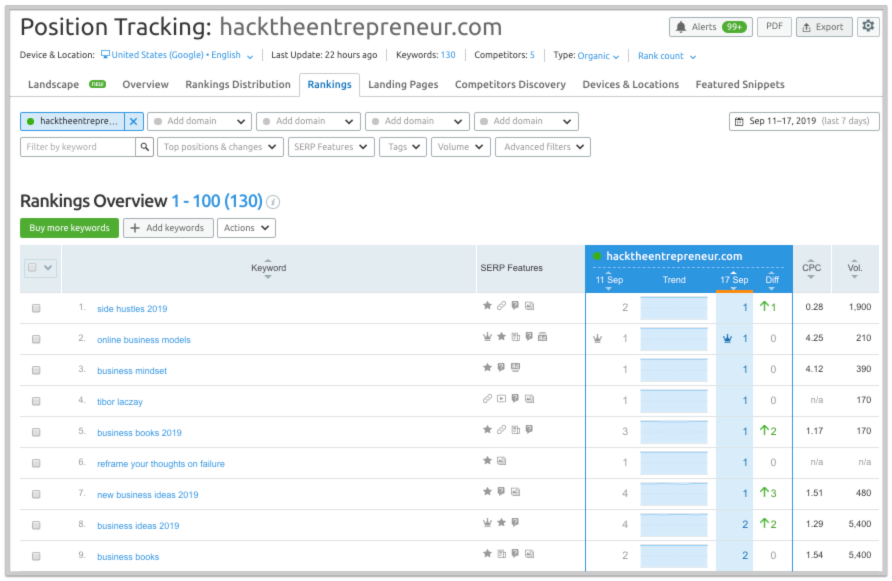 SEMrush's Position Tracking tool enables you to track a website's (and it's competitors) daily keyword ranking position changes.
Position Tracking features you will love:
Track ALL the Keywords: You can add up to 1,500 keywords
Get Specific: Any geographic location (by country or city)
The Ups and Downs: See easy visual position changes
Beat the Competition: Track up to 20 competitors
SERP Features Analysis: Snippets, images, questions, and videos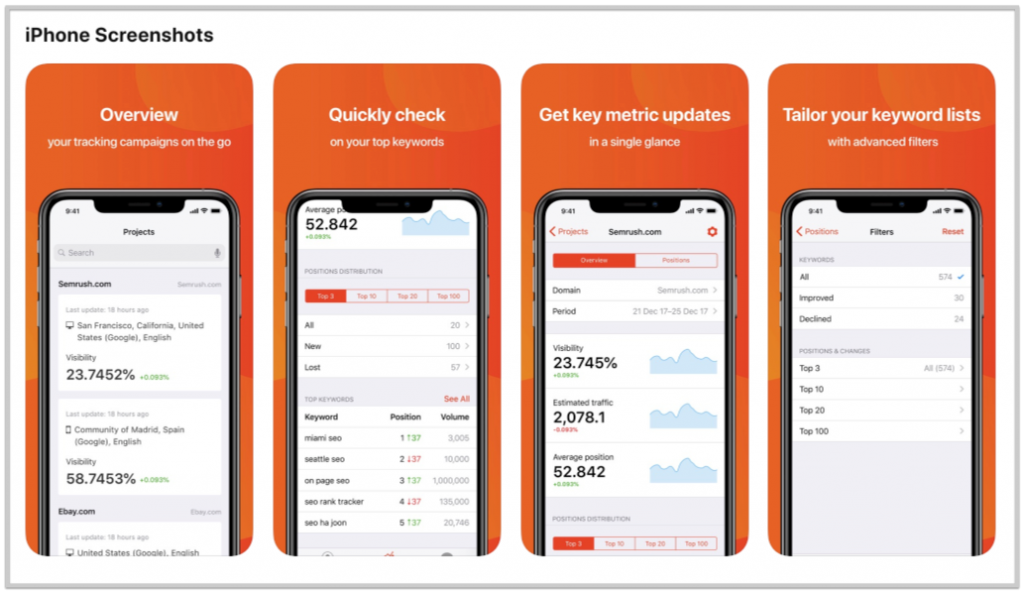 Oh, and if you want to take your keyword position tracking addiction to a new level, then their new iOS app if just the thing you need. The best part is it comes free with any SEMrush membership.
Track Any Domain or Keyword: Track your website's ranking for target keywords in the Google top 100. Get daily updated data.
14.9 BILLION KEYWORDS: Second largest keyword database in the world, next to Google.
Keyword Position Tracking: Quickly get key metrics in a single glance on up to 5,000 keywords (Plan dependent).
Instant Keyword Brainstorming: Never run out of keyword ideas again with SEMrush's Keyword Magic Tool.
Get Local: Analyze location-specific data to estimate your web presence. Create tracking campaigns for any location you'd like.
Analyze SERP features: Find out which of the keywords you're tracking have triggered SERP features. View SERP snapshots for each keyword.
Track Keywords On-the-Go: Check your rankings any time and any place with the iOS and Android apps.
Manual Importing: SEMrush doesn't automatically find your rankings and track them for you.
Account Limitations: Pro account is limited to 500 keywords you can track across all projects.
Geo-Specific: You can only track one geographic area at a time.
Keyword Tracking
So Good, It's Addicting
Learn More About Position Tracking
Now onto the main driver of any SEO campaign — the content.
Content Marketing
What you create, how you create it, and who you are targeting are essential to understand before, during, and after the publishing process.
SEMrush's content marketing platform is better than any other tool on the market — and this aspect of the platform will especially benefit you if you are just getting started in SEO content writing and content marketing.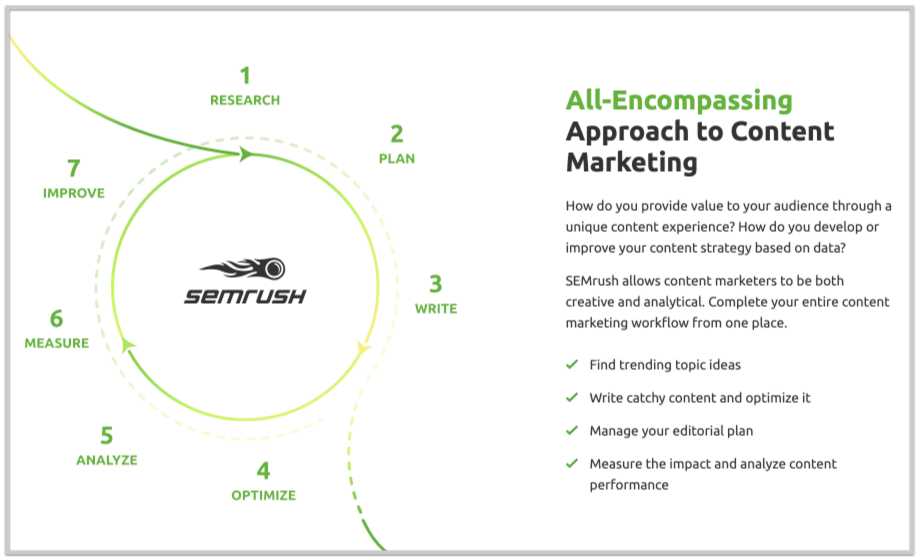 Topic Research
SEMrush's Topic Research tool is a brand new and groundbreaking extension to how you will perform keyword research.
An effective content strategy is based on information about your audience's interests, desires, and needs.
SEMrush's Content Platform enables you to perform topic research by giving you the complete picture of what your audience needs – in just a couple of clicks.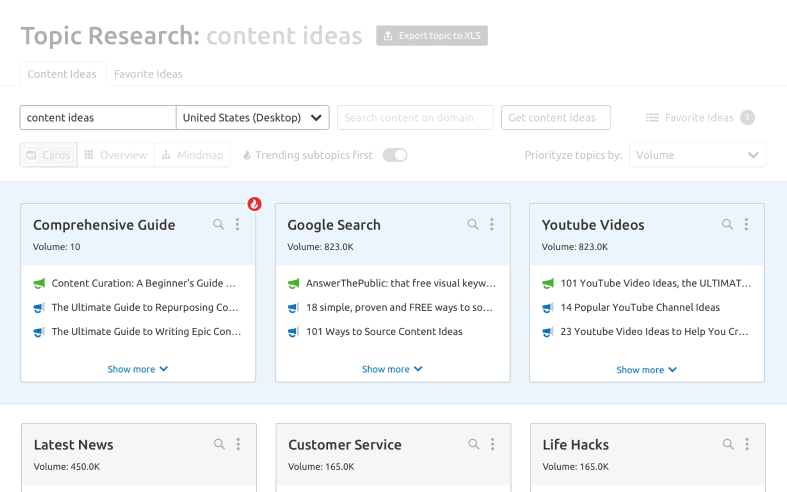 Here are the features you will love:
Uncover Popular Topics: Take advantage of trending topics and amplify your reach
Subtopic Ideas: Instantly drill down into your topic with additional keywords to target
Write Killer Headlines: Uncover what headline styles draw the most clicks
Popular Questions: Google's "People Also Ask" data at your fingertips
New Feature Alert: SEMrush Content Marketplace
At the click of a single button, you can now have a professional writer create the article for you! Seriously. 
Now that you are armed with all of the topic information you need to create a truly valuable and optimized piece of content, it's time to sit down and write … or is it?!
At the click of a single button, you can now have a professional writer create the article for you! Seriously.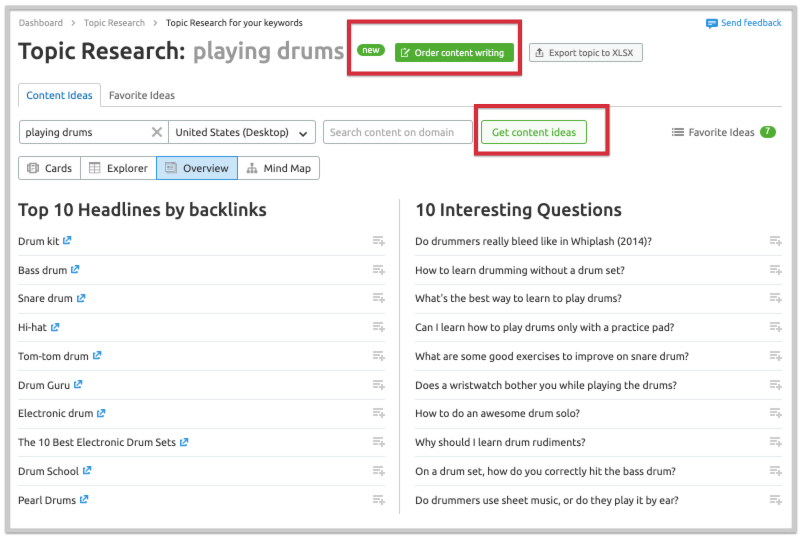 You are probably thinking that this must be a super expensive service, right? Check this out…

SEMrush Content Marketplace Pricing

Take Your Content Marketing to the Next Level with SEMRush
Start Your 30-Day FREE Trial Today
SEO Writing Assistant
Picture this scenario: You do your topic and keyword research using SEMrush's badass tools, and you've checked out the first page results for your target keywords.
You're pumped and ready. You grab a coffee and sit down to write an article that is going to drive 1000s of potential customers to your website.
But how do you make sure that you don't end up droning, veering off-topic, and then just end up writing another article that doesn't give you any SEO value?
With SEMrush's SEO Writing Assistant. A simple Google Chrome add-on that works live in your Google Docs as you type. You can see what it looks like on this very document as I work below.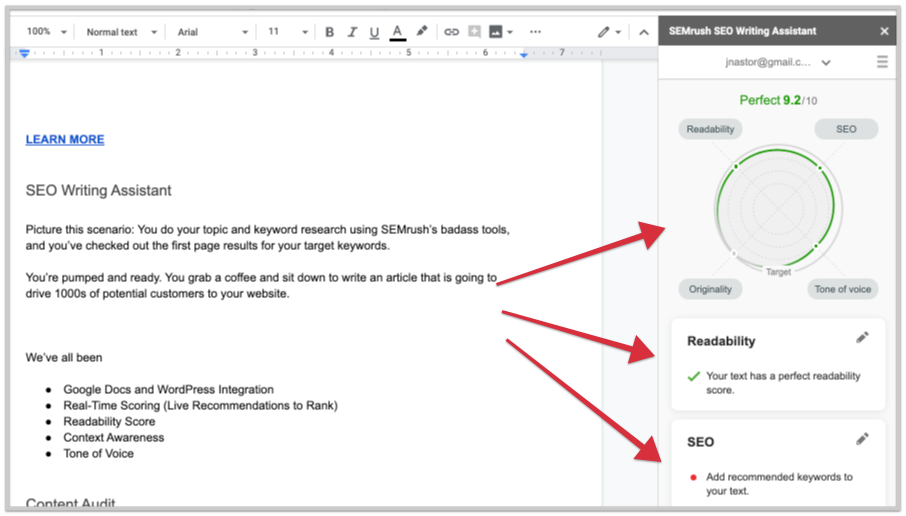 So what's the best part about this tool?
It enables you to optimize your content for your target keywords – on the fly – as you work.
Here are a few of the highlights of the SEO Writing Assistant:
Google Docs and WordPress Integration: Seriously, any content marketer's two main weapons are fully integrated with the power of SEMrush.
Real Data: All the recommendations and analyses are based on data scraped from the top current 10 search results for your target keyword.
Attract More Readers: Recommended keywords are words semantically related to your target keywords. Write your article so it ranks for 100s of additional search terms.
Readability Score: Manually set your grade level readability based on your target audience or use their automatic recommendations.
Broken Link Check: Linking issues warns you if any broken links are detected in your text.
Format and Structure: Ensure your text is perfectly structured for a target keyword and written in an SEO-friendly style while you write.
All the metrics given to you are interactive, which means they adjust as you write, make changes, and edit your content.
Although the SEO Writing Assistant isn't going to change your life, and it's definitely not worth the price of SEMrush. As an added bonus, it is definitely a tool that will help your writing and its simplicity will ensure that you use it every time you write.
Content Audit
One of the first steps in every SEO strategy should be performing content. By going back and improving your low performing website content with optimized on-page SEO elements, you can slowly improve your website's overall search engine visibility.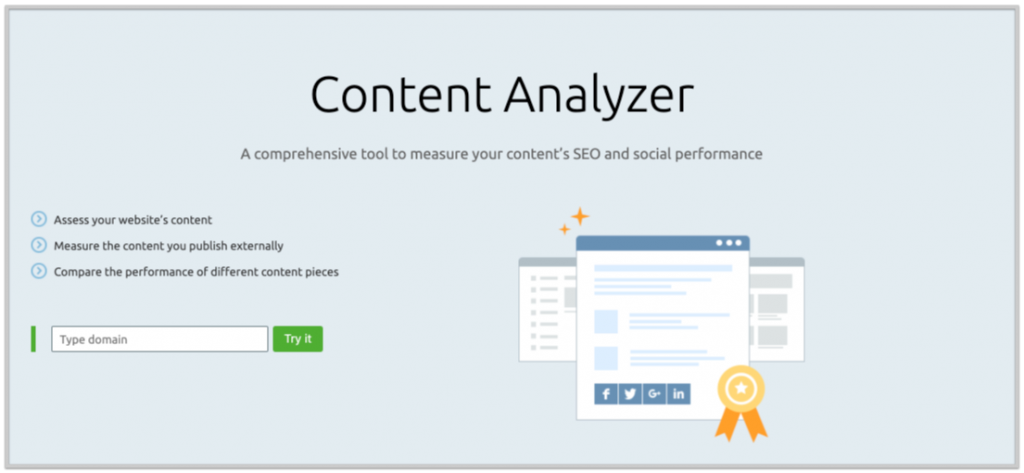 Content Analyzer shows you how your existing content is performing – both on and off your site.
The tool measures social shares, backlinks, keyword rankings, and even Google Analytics data like sessions and bounce rates.
Here are the features of Content Analyzer:
Fully adjustable workflow
Send tasks to Google Calendar or Trello in one click
SEO trend analysis for guest posts
Connects to your Google Analytics and Google Search Console
Although Content Analyzer does do many things, for anyone with SEO experience it'll fall short of your expectations.
Unfortunately, automated content audits rarely live up to their hype – and SEMrush's Content Analyzer is one of those.
Find Trending Topic Ideas: Your source for instant ideas for engaging and trending content that drives traffic to your website.
Write Killer Headlines: Uncover what headline styles draw the most clicks.
Popular Questions: Google's "People Also Ask" data at your fingertips.
Instant Access to Writers: The SEMrush content marketplace gives you access to vetted and tested content writers — at unbelievable prices.
SEO Writing Assistant: Google Docs and WordPress integrations give you real-time data while you write.
Attract More Readers: Recommended keywords are words semantically related to your target keywords. Write your article so it ranks for 100s of additional search terms.
Readability Score: Manually set your grade level readability based on your target audience or use their automatic recommendations. 
Automated Content Audits: No longer wait or pay for SEO contractors again with SEMrush's content auditing tool.
One Size Doesn't Fit All: As good as the suite of content marketing tools in SEMrush is, they still don't work 100% with every topic and article idea.
Learning Curve: Learning how to write while using the SEO Writing Assistant takes time and patience to get used to using. That said, once you've mastered it, you will never publish another article without it.
Take Your Content Marketing to the Next Level with SEMRush
Start Your 30-Day FREE Trial Today
Social Media
As part of any successful social media strategy, you need to choose the right format for sharing your content. And the best way to do just that is to see how your competitors do it.
There are two separate social media tools in the SEMrush toolbox – Social Media Tracking Tool and Social Media Poster – so let's cover both of these in this SEMrush review.
Social Media Tracking
The Top Content report will show you their best-performing posts with the highest engagement rate. So you can simply compare your engagement trend to that of your competitors, see the total number of likes, shares, and comments.
Social Media Poster
Yes, this is included with EVERY SEMrush account!
This works the same (or better) than all the other popular social media automation tools you've heard of and probably use — Buffer, Hootsuite, Meet Edgar.
From directly in your SEMrush dashboard you can post to all your social media profiles. Connect your Facebook, Twitter, Instagram, Pinterest and LinkedIn accounts and post across different social networks from a single tab.
One Dashboard: Post to all of your social accounts from one place
Queue Up Posts: Schedule posts and manage your queues
Save Time: Social media automation features to save you time and grow your audience
Get the Data: Analyze your content's performance
Chrome Extension:Post instantly from your browser while browsing
All the Data: View and sort posts by date, engagement rate, likes or dislikes, and views for YouTube videos
Watch Your Growth: Track the changes in your follower count (and compare it with your competitors)
Trend Analysis: Analyze your publishing trends and performance over a particular time period
1-Click Reporting: View audience engagement levels (and how they change over time)
We Do NOT Use The Feature
Afterthought: Although the social media functionality seems somewhat useful, it doesn't make sense to have it inside SEMrush.
SEMRush Pricing
SEMrush has three plans structured to fit your needs and budget. All of the plans include ALL of the features. What you get with the higher tiers is more keyword results, more reports, more projects, etc.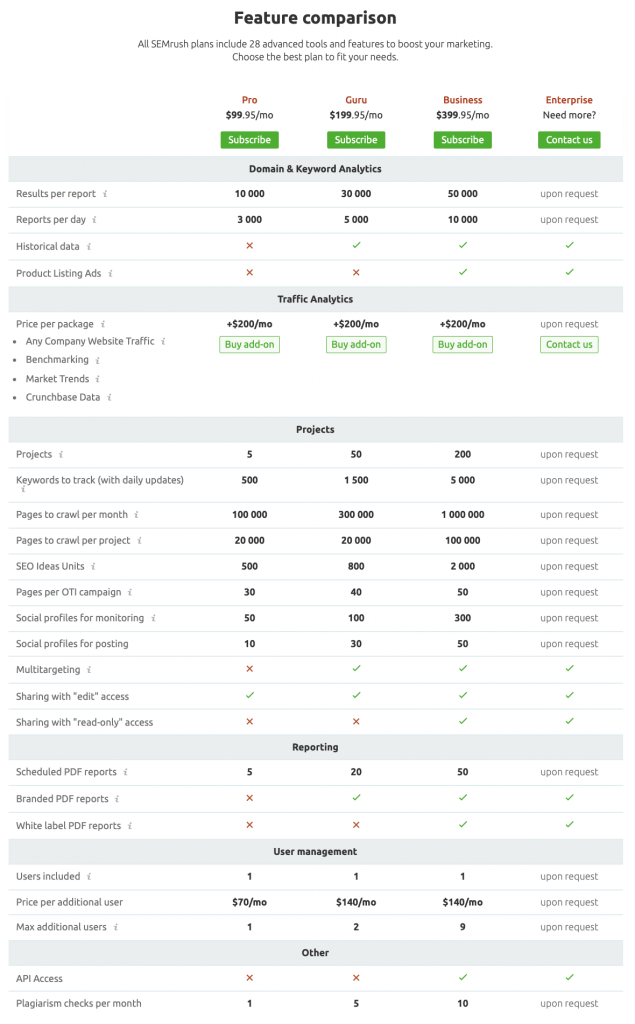 SEMrush Pro
For freelancers, startups and in-house marketers
with a limited budget.

10,000 results per report
3,000 reports per day
5 projects
500 keywords to track
100,000 pages to crawl
5 scheduled PDF reports
Get our Exclusive 30-Day Trial
SEMrush Guru
For small and medium-sized businesses,
and growing marketing agencies.
30,000 results per report
5,000 reports per day
50 projects
1,500 keywords to track
300,000 pages to crawl
20 scheduled PDF reports
Branded PDF reports
Access to Historical Data
SEMrush Business
For agencies, E-commerce projects and
businesses with an extensive web presence.
All the Guru features plus:
White-label reports
API access
Extended limits and sharing options
Google Data Studio Integration
SEMrush Plan Annual Deals (and Savings)
If you know for a fact that you are playing the long game with your website and content marketing, then you have the option to pay annually rather than monthly, and 100's of dollars.
SEMrush Annual Pro Plan: $999.36 ($83.28/month)
SEMrush Annual Guru Plan: $1,999.44 ($166.62/month)
SEMrush Annual Business Plan: $3,999.36 ($333.28/month)
Exclusive: SEMrush 30-Day Trial
As awesome as SEMrush is, you probably would like to give this tool a little hands-on test-drive to see if it really is a good fit for your company.
Fortunately, we have an EXCLUSIVE special 30-day free trial of SEMrush so you can check out all of the features for yourself.