"Every great website is a membership site. …It's not a subscription business model, or it's not yet, but the beginning of the experience is being logged in.

What is Facebook really? …On the web or with the app, it's a membership site. Without registration and access your experience is not the same. You're like a little kid outside the candy store window, looking in, drooling. You don't get any of the goodies unless you are logged in."

– Brian Clark, CEO, Copyblogger Media on 'Why Every Great Website is a Membership Site'
You know that you're supposed to be building an email list so you add a 'subscribe to my email newsletter' box on your website. But hardly anyone subscribes.
You hear that you should offer some kind of downloadable incentive like an ebook to people signing up, so you add one. But growth is still pretty slow. How do you get more email subscribers at a more exciting rate?
In fact, forget about just getting another email address. How do you give something of real value to your audience that gets your long-term relationship off to a good start?
The Power of Creating a Membership Site
Simple. You start a free, members-only content area for your website and you pack it full of awesome stuff (and you keep adding to it). But who'd sign up for a website that you have to be logged in to see a lot of the content, right?
If you are like most people, you use Facebook or Twitter every day and most of the time you're logged into these websites without even realising.
Logging in is not a disincentive to people engaging with you. In fact, creating a barrier to entry (with a nice carrot on the other side) may make it more likely people will value what you're offering and clamour to be on the right side of the VIP rope.
This logged-in experience can boost your email list, get to understand your audience better, and build a truly beneficial long-term relationship. All you need to do is turn what you know into a business.
Doesn't that sound better than having another half-interested subscriber on your email list?
Fortunately, building a members only content area has never been easier and needn't be a technical headache for you or your audience.
In fact, thanks to the Rainmaker Platform which powers this website (and many HTE guests, including Chris Brogan), you could have your new member only content area in just a few minutes.
How It's Done
Compared to jumping in and starting to code – or wasting hours looking for the 'perfect' plugin – Rainmaker is pretty damn easy. But let's face it, you're busy, I'm busy, so it still helps to have all the steps laid out, right?
Without further ado, here's how to set-up your own member only content area on your Rainmaker powered site, every step of the way. Either follow along with the video or just use the steps below (plus, I've put together a checklist, that you can download, that will walk you through the process).
Grab the checklist
We've also put together a simple checklist you can follow along with when setting up your membership site, it's a Cliff's Notes version of all the above and ideal for ensuring you don't miss a single step now.
To download the checklist and get free access to future HTE Rainmaker bonus content just register and subscribe now:
1) Signup / Login
Firstly…
If you're new to Rainmaker… go ahead and sign-up if you didn't already. Nervous to take the leap? Don't be! There's currently a 14 day free trial so you can try all this stuff first (and wonder how you spent so much time and effort just to achieve something simple on your website before you used Rainmaker).
If you've already got a Rainmaker account… go ahead and login if you aren't already 🙂 (Oh and if you've already been playing around with your Rainmaker account you may already have some of the following things setup, but go through each step quickly anyway. It won't take you long and might learn something cool).
2) Create Key Pages
First we're going to create the minimum few pages required for your membership site:
Checkout Page
Login Page
Member Page (a profile page where someone can update their details)
Thank You Page (page seen after someone signs up, unique to this product)
In some cases, you may already have these pages in place. To view all the existing pages you have go to:
Content (from the left menu) > Pages > View All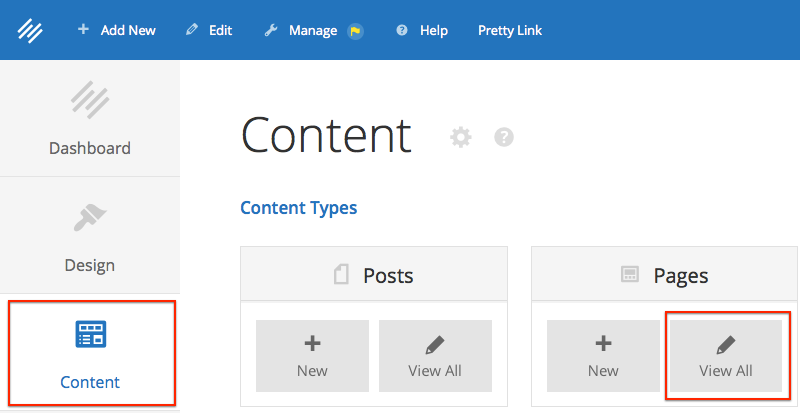 If these pages already exist you can skip the following four steps. Otherwise, to create these pages:
Click Add New

If you're not sure right away what other content (if any) you're going to put on each page, that's fine, go ahead and add a (useful) title to each one (e.g. Checkout) and hit Publish

Repeat this process for the other three pages (I recommend Profile as the Member Page title).
Hooray, now you have your four basic pages.
Now tell Rainmaker to use the Checkout, Login and Member pages (we'll set up the Thank You page later):
Go to Conversion from the left menu
If it's not already expanded, expand the Conversion Status menu towards the top of the page
If you haven't already set up these pages, you'll see a nag box that looks like this:

Click the Edit link next to any of the pages
On the next screen just match each page to the equivalent page you just created, like this:

So it ends up looking like this:

and when you're done, scroll down and click Save.
Feel great about yourself.
3) Connect With Your Email Provider
Since one of our goals is to drive email signups with the free member area, go ahead and connect to your email provider of choice. For this demonstration, I'm going to use MailChimp.
Go to Conversion (left menu), then Conversion Status and under Email Status – if your email service is not already setup – you will see a Content settings to setup a service link which you should select.
(If your email service is already setup you can double check the settings by choosing the Edit link instead).
Scroll down to MailChimp Account Information and choose Setup MailChimp Account
You will be prompted to login to MailChimp and it will authorise Rainmaker to be able to add users to MailChimp lists on your behalf. 
4) Create A Membership Level
The next step is to tell Rainmaker that you'd like to create a special member only access level to your website.
Once we've done that we can assign all types of pages and other rad things to that membership level and your audience will only be able to view those pages (or download that content) after logging in.
(Want to create other membership levels, for example a paid membership level, later on? No problem! Rainmaker lets you create multiple membership levels so everything we're doing here does not preclude you from creating other types of member only content later on).
To create a new membership level (or check existing levels):
Go to Conversion from the left menu.
Under Conversion Tools, go to Member Groups and then Edit
On the next screen you'll be presented with a list of any member groups that have already been created.

(By default, your Rainmaker site may already have a Member Group called 'Free', if you're not already using that for anything else you can go ahead and use that for this project or if you prefer you can create your own)
To create a new member group add a meaningful name and slug under the Add New Member Group area and then hit the Add New Member Group button

5) Create A Product
In order for someone to get access to the membership level you just created you need to create a new product which will give them access.
This product can be a paid product of course, but for our example we're creating a free membership level so we simply need to get someone to sign up for the product (rather than purchase it).
To view all products and create a new one:
Go to Conversions (from the left menu), Products and then View All
By default, you may already have a demo product called Free Content Library. If you do, and you're not using it for something else, I recommend using this for our product. In this case click Edit under Free Content Library (If not, and you're creating a new product, click Add New and follow the steps below in any case):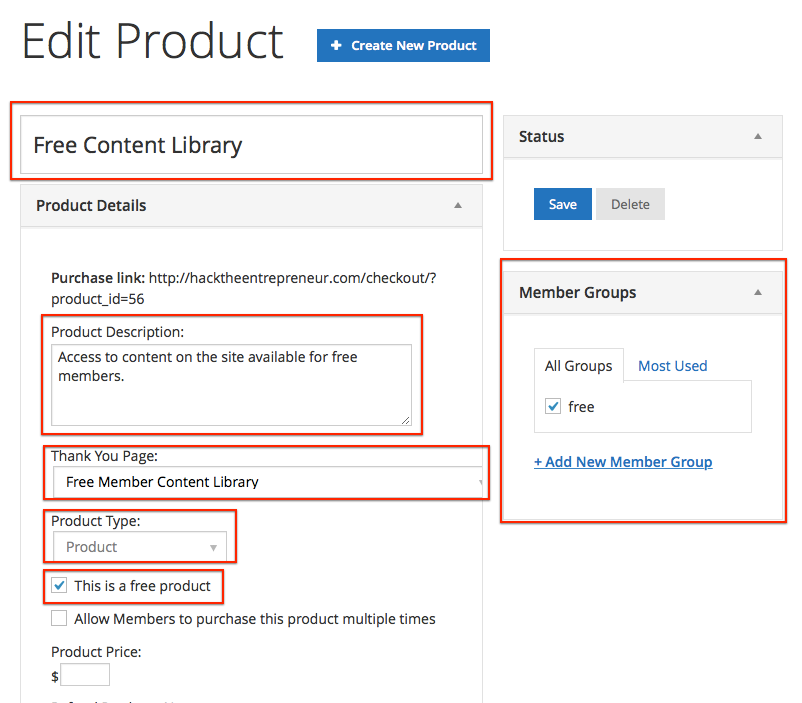 In the screen that follows you should give you product a name and an optional description.
Set the Thank You Page to the one you just created for this product
If not already set, set Product Type to Product
Check 'This is a free product'
On the right, check the Member Group you want to give access to on sign up
You can also optionally send an Email Receipt on signup (this is separate from any newsletter subscription). You can also dynamically customise the email receipt content with a number of shortcodes, e.g. by using [member-first-name] or [product-title]. 
To add email addresses to MailChimp (or your email provider) every time someone joins the membership area:
On the same page, under the MailChimp section, choose the list you would like to subscribe people to in MailChimp on signing up (if you'd like to create a new list just for this purpose, login to MailChimp and add a new list under the Lists section, then come back here and repeat this step).

Under MailChimp List Fields, enter the following in each of the corresponding Email Address, First Name and Last Name merge fields to make sure the data you send to MailChimp is added correctly:
– EMAIL
– FNAME
– LNAME
(It's unlikely but, if you've changed the fields for First Name and Last Name in MailChimp these values may be different, if so you can check them by logging in to your MailChimp account and going to Lists > [List Name] > General Forms and then clicking the field in question to reveal it's field tag name).
When you're done, hit Save. Your product is now ready to roll.
6) Add Restricted Content
Now we need to add whatever content we'd like to put on our membership site.
How your organise this is up to you, but maybe you'd like to create a few pages of content (Step 1, Step 2 etc) or different sections or sub-sections, in which case just repeat the following process. You can also add downloads and videos too.
To add a page of content available only to logged in members:
Choose Add New > Page from the top (blue) menu in the Rainmaker admin screen
Give the page a title and add the content.
Now to restrict access to it, under Membership Group choose Has Member Group access to and then check the group (e.g. free) that you'd like to give access to it.


When you're done, hit Publish
Now only logged in members who signed up for your 'free' product will have access to this page. You can of course, repeat this step for as many pages as you like. 
7) Optional: Add Member Only Downloads
To add a member only download (e.g. a PDF):
Go to Conversion > Downloads > Add New

Enter a Title
Add the file via Upload new file
Make sure Publicly Accessible is unchecked
Make sure the member group you want to give access to is checked (e.g. 'free')
Optionally, you can also track the number of downloads too
When you're done hit Save
You can now add a link to this particular download on one of your content pages:
Find or create the page you'd like to add the Download link to under Content > Pages
You'll see an Add Download icon, click this and a pop-up window will appear

Start typing for the name of the download you just added, optionally set the link text and hit Insert Download
When you're done, hit Update (or Publish) and members will now be able to download your file via this page.
8) Creating Your Landing Page
Although you could just send people a link to the product directly, you're probably going to want to create some kind of a landing page (sales page) to drive people to sign up to your new membership area.
Fortunately Rainmaker makes this very easy:
First we need to go and grab the link to our product, go to Conversion > Products > View All
Hover over the product you created earlier and hit Purchase and then copy the URL it gives you.
Then, from the top (blue) menu go to Add New > Landing Page
You can either use a pre existing template or build your own landing page. I recommend keeping this simple for now (just so you can finish this process quickly) and you can go back and add / improve your page later. I'm going to go with Prebuilt Template…

…and then choose the Generator > Confirmation template.

Start by entering a Title, Page Heading and Page Sub-Heading to describe your offer in more detail.
Then the important part, in the Message box click the Call To Action area to open a pop-up window, fill out all the relevant details (including going into more details on the benefits of signing up in the Edit Content area), finally setting the Button Text and then pasting your product URL into the Button URL field. Hit Done (and you're done).

To preview the page at any time before publishing just hit the Preview button in top right, otherwise hit Publish when you're ready. 
You can now send people to your landing page directly by copying the Permalink (or clicking View Post and copying the URL) and sharing it with them or we can start to add links from other parts of your website (recommended), which is what we'll cover next.
9) Opening the Doors
Now that you've created all these awesome pages (or page), you need to help people sign up, login and browse your new membership site.
The easiest way to get started is by adding a few links to your existing menu. Also, by creating a new menu listing all the member only pages that will let them easily browse the content.
To add links to your existing menu:
Go to Design (from the left menu) > Menus > Edit
(On this screen, you'll either see a list of existing menus (which you can add additional menu items to) or use the 'create a new menu' option to create a completely new one).
To add a link to your current menu, if you have one, select it from the dropdown at the top of the page.
Browsing the Pages box on the left you now want to add the public menu items to the menu (e.g. landing page, login), by checking them and choosing Add to Menu.
From here you can adjust the order of the menu items as you wish and hit Save Menu when you're done.
Where does this menu appear? Depending on which theme (design) you're using your menu will probably be set as the Primary Navigation Menu location under Menu Settings, but whatever location you prefer to set it as make sure it's visible somewhere!
You might also like to create a menu listing all the member only content, to do so:
While still on the Menus page, click the create a new menu link
Via the Pages box on the left again, choose your restricted content pages and add them to the menu on the right
You can either assign this menu to a location (e.g. Secondary Navigation Menu) or assign it to a Content Area somewhere else on your site (more on that below).
Give your menu a meaningful name and hit Save Menu
To assign your menu to a content area:
Starting from the left hand menu, go to Design > Content Areas > Edit
You will see a list of Content Areas on the right of the page, each Content Area appears on a different part of your website (the name should give you a clue, e.g. Footer).
To add your menu to one of these areas drag a Custom Menu widget (from the left) to the Content Area (on the right) of your choice.
Once the widget is in place, click to expand the widget and make sure you choose the correct menu from the Select Menu dropdown (you can also give the menu a title if you wish).
Once that's done, just hit Save to save the widget in place.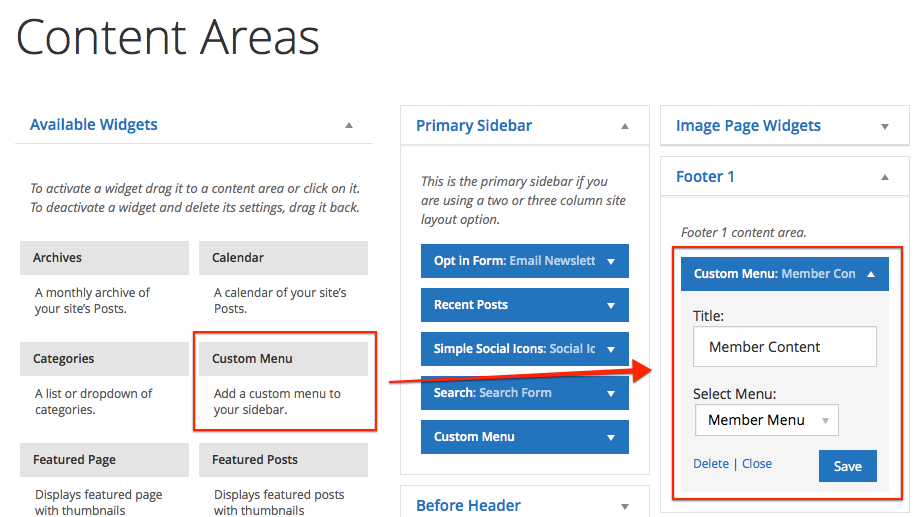 If you don't want to create a menu for your member content yet, you could simply add a list of links to the other pages or downloads in your member only section from a single page within the member only section.
To do this:
Go to Content > Pages > View All
Edit the page you want to add the links to
Then simply create a list of links to other pages (via the Insert Link icon) or downloads (via the Insert Download icon)

When you're done, just hit Update.
Finally, aside from adding menus, there are lots of other ways you might want to promote the new landing page for your member area:
By emailing your existing list
On social media
By writing a blog post about the benefits of joining
By creating a call to action after every blog post
By using other widgets on your website to drive traffic to your new landing page 
10) Feel awesome
You did it! Remember you can keep adding to your member area over time and turning it into an asset (and remember to tell people about the new content too via your email list).
Of course adding content like this is only the start. In a future post we'll cover the in's and out's of adding a member only forum (another great way to make a stronger relationship with your audience) and some of the other things you can do on your new membership site.
Got a question about Rainmaker? Something else you'd like us to cover in a future article? Just let us know in the comments.
Didn't get Rainmaker yet? Go ahead and try setting up your own membership site now by signing up for their 14 day free trial.
Grab the checklist
We've also put together a simple checklist you can follow along with when setting up your membership site, it's a Cliff's Notes version of all the above and ideal for ensuring you don't miss a single step now.
To download the checklist and get free access to future HTE Rainmaker bonus content just register and subscribe now: